Talk about Energy, Friends, and Enthusiasm! That's the best way to sum up the energy at the Triathlon this year. My breakdown is as follows:
I got there this year by taking the 7am ferry. The squeezed as many of us as they could on and that was alright. It was *so* foggy. You could barely see the ferry as you got on, I don't know how they drove it in the water! Shocked really! But thankful. When we arrived I was "late" compared to last year so I bike down to the transition area and got moving. I racked my bike and got my race information packet, t-shirt and got a move on. My bib number this year, even with registering as soon as it was open was 258.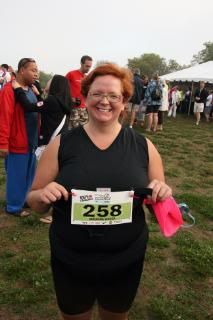 I made sure everything was ready in transition and I got a move on. I headed down to the beach before they closed the area. When you got there… WOW! You could barely see the people in front of you. They called for a 15 minute delay to hopefully be able to see. My start time was pushed from 8:14 start time to an 8:34 start time. When they got the blue guys out I went to the water to see how freaking cold it was and guess what… it was INSANE! I was SO cold. I went out to my hips or so and got wet. I wanted to see if the cold factor would go away and guess what, it did, but my legs were numb! What a crazy feeling. I tried to channel all that energy I had as a kid to go swimming in the lake when it was freezing. But somehow it didn't come. I couldn't force myself to get totally wet. I gave Arnold my glasses and stood around the starting area. I visited with a few people and splashed myself a few times with the cold water. It's such a shock to the system. The guy announcing it even said that if you feel like your lungs are going to explode you should roll on your back, do some back stroke and take some deep breaths. If that doesn't work and you think you are in trouble take your cap off and wave it around. Someone will come and get you right away. He wasn't kidding. I think more people were pulled out this year than I have ever seen (which doesn't say much since this was the second year for me). I got ready and moved into position. I didn't try and get first out of the pack because I wasn't in that much of a rush. I waited a bit. My parents joked I had a plan, everyone would get in and pee and the water would be warmer before I headed out! Sad but was kind of true!
The Swim:
My time: 13minutes, 51 seconds, 400m swim | 3minutes and 28 seconds per 100m
Overall Rank: 283 out of 450+ racers
No wet suit
Course: triangle like, out around and back
Waves – barely any
Water Temp: 17.5C / 63.5F
*This year's time compared to last year's time –
2011 time was 13 minutes and 51 seconds
2010 time was 15 minutes and 2 seconds
**Faster this year by 1 minute and 11 seconds**
When I finally headed out it was so cold that I just couldn't make myself put my head under water so all that breaststroke paid off! I did most of it in breast stroke and head up front crawl. What a difference it made. I just about choked a few times but that's alright. Lake water is NOT meant to be swallowed. I passed 2 blue caps (first wave) and at least 3 yellow caps (second wave) and a few of us pink caps. I did ok. COLD and you couldn't see in front of you. What a scary thing. For me it was more of a "if I can see the buoys I should be ok, but if I can't I need to get help. The Lifeguards were great at directing sometimes as well. They just needed to stop a few of us who went off course a bit. I got out, got my glasses and began the part I *HATE*. I hate the sand and the walk way back to the transition area. Not only is it hard to run on sand but the goose poop on the other side is hard not to step on! AHH annoying!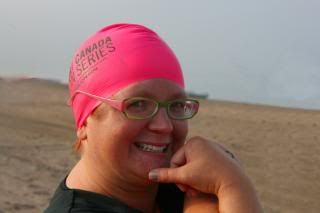 Plans for next time:
I said this last year but I really have to practice running on the beach. It's my least favourite thing to do but I know it would help me a lot to have that part mastered. I'm seeing some more trips to the beach next time and lots of walking and running on the beach.
I was greeted by my hubby after the swim to get my glasses and then over the wooden walk way to some cheers from my parents, my sister, my boys and my niece. I swear, next time I'm wearing a shirt that says "yes my family is that loud group"! I loved hearing them cheer me on! What a fantastic feeling!
I got into T1, also known as transition area 1. This is where you change from your swim stuff into your bike stuff. To NOT get DQ'ed you have to have your helmet on before even touching your bike. I have learned that's the thing to do. My shoes are always prepped (very loose laces and socks on top of them) and my helmet is on my bike. I generally take my cap off between the beach and the transition area and the helmet is the first thing on my head before anything else. Then I know I'm covered so helmet on, socks on and shoes on. A bit of balancing issues but that's alright. Grabbed the bike and off I went. Heck! I even ran a bit of the way from the transition area to the mounting area. Something I never did last year!
T1:
Time: 2:23
*This year's time compared to last year's time –
2011 time was 2 minutes and 23 seconds
2010 time was 2 minutes and 33 seconds
**Faster this year by 10 seconds** - which surprises me since I was further away from the bike exit this year!
Next was my bike ride. I knew I could do this. I've been training a lot on my bike. Most have been splits but I knew it was something I could do. Last year I remember not pushing as hard as I could. I was so scared if I did I would be toast for the run so I pushed myself this year. I managed to pass 5 people on the 10km loop. I was passed WAY more than that. But I made a point of encouraging everyone who passed me or who I passed. The smile on people's faces was so cool! It was a good path out there and back, flat and fast! The biggest problem for me was that the morning when we were leaving I had a flat tire! Arnold fixed it for me before bringing the bike to the ferry and I was SO worried. I hit a bit pot hole as well. I don't know what happen but I just hit one! I was mad at myself but I did alright. I went right back up the other side and kept biking. It was about ¼ of the way through. I told myself *if* I did have a flat I would just bike it all the way and buy myself a new rim next time! I remembered I had a water bottle just before half and took a drink and got a wonderful surprise! See the night before I prepped my water bottle and put a bit of water in the freezer and then pulled it out this morning and added some more water and I was good to go… well... I forgot that I had added some Kool-Aid mix to the bottom of the frozen water and wow was that a little energy boost! I was watching those riders with food in their hands thinking I should have done that but the Kool-Aid mix was wonderful! And because of it, and the taste, I think I drank too much water!
Biking:
My time: 24 minutes and 4 seconds 10km bike | 24.9km/hour
Overall Rank: 279 out of 450+ racers
Performance: Good, pushed myself harder than I thought I could
Wind: none but MAJOR Fog, to the point that if no one was in front of me I would have had no clue where to go, also had to wipe my glasses a few times on both sides to just see out of them.
Course: Out to the other end of the island then back past transition area, a quick turn and then back to transition to dismount.
Road: a wet feeling, but not wet more fog than anything, some potholes (that I managed to hit on bad)
Turns: average, I did good on the turn at the far side and lost LOTS of time at the one after transition
Race pace: comfortable
Drinks: maybe too much?
*This year's time compared to last year's time –
2011 time was 26 minutes and 21 seconds
2010 time was 24 minutes and 04 seconds
**Faster this year by 2 minute and 17 seconds**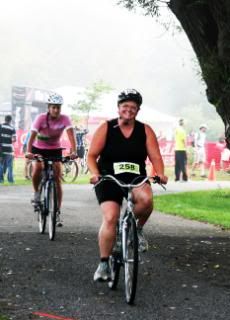 Transition 2 was a bit easier. You bring in your bike, rack it, and run! Pretty much! I did take off my helmet and add my hat this time. It wasn't too hard to transition this time because where I was racked was SO close to the exit and not too many people were back on my rack yet so we were good. I just did it and ran!
T2:
Time: 1 minute and 10 seconds
*This year's time compared to last year's time –
2011 time was 1 minute and 1o seconds
2010 time was 1 minute and 22 seconds
**Faster this year by 12 seconds**
My last part is always the hardest for me. The run. I am not a runner by any means at all whatsoever. Just lately I've been trying to get my running up. While it's not an instant fix it does help. I do about 60 steps walking and 60 strides running, and so on. I think if I had started that first I would have been ok. I had so much encouragement on the way it was great. My family was cheering for me, and even some fellow competitors. One girl came out of T2 with me at the same time and told me I could just jog. I did for a bit then when I passed her again she told me she was watching me, in a friendly way. It was a nice kick in the bum to keep going. The first time around the "lollypop", as it was called, is so hard. I feel like I'm going to die but I don't! Thankfully. The second time around I can convince myself to go faster. This year my mom came out and kicked my ass. The last little bit she made me pick up the pace of speed walking and go go go! Then I met up with a new "friend". She and I jogged to the end. She pushed me to get under the clock moving to 1 hour and 20 minutes. I did it! Just. And what a help she was. Our times are .2 of a hundredth away from each other! It was so nice. I found her later on the stands getting a photo and I got one with her, only to find out that she went to St. Pats (a high school I did as well) and we were both on the same swim team! How cool! This is always the hardest for me. And always my goal to do better so that's the plan for next time:
Run:
My time: 24 minutes and 05 seconds
Overall Rank: 375 out of 450+ racers
Performance: less than average. I mean it was much better than last year, I actually ran some, but I was so tired. I really have to work on this part next time.
Course: out and around the transition area, out to the street and 2 "lollypops". On the way back the second time back to the start.
Keeping Cool: not very
Drinking: could have used 2 cups instead of just 1 each time around. Even if to just pour on my head to cool me down.
*This year's time compared to last year's time –
2011 time was 24 minutes and 05 seconds
2010 time was 25 minutes and 35 seconds
**Faster this year by 1 minute and 30 seconds** - which I owe all to my mom!
Overall feeling – It was fun. I love them every time. Getting there is sometimes hard but what a feeling! I really enjoyed it. Hopefully next time I do it I can knock off some more seconds.
Time: 1 hour 5 minutes and 30.3seconds
Overall Rank: 350 of 450+ racers
*This year's time compared to last year's time –
2011 time was 1 hour 5 minutes and 30.3 seconds
2010 time was 1 hour 10 minutes and 50 seconds
**Faster this year by 5 minutes and 20 seconds** - next time, under 1 hour!!