There is so much coming up in 2010... It's time to make new years resolutions; to do new years cleaning; to do your 'yearly weight in'; to get ready for 2010, whatever the case maybe.
We all do different things when the clock rolls over to the next year. Last year I made a lot of different resolutions. I can honestly say a lot of them I didn't accomplish. But as I look back over the year a lot has happen to us:
We rang in 2009 at the Zoo with the kids. We had a lot of fun but it did keep us crazy busy since we all seemed to have our colds from that Christmas linger. At least this year we didn't run out of sick days by May, like we did in 2008. We did begin our packing up of the house we were in. We lived near Warden and Lawrence and we slowly packed up our house as we started to move. I also learned how to knit hats. The boys slowly enjoyed being my models for the early versions: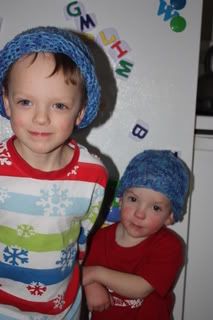 We had purchased a tent trailer the past August (2008) and we spent our summer living at Glen Rouge Campground. It was wonderful. After fighting with the Raccoons and any other random animal and dealing with some CRAZY neighbours it turned out to be a good summer. The boys celebrated their late birthdays that summer at the campsite and we had a lot of fun playing around and having a campfire.
I learned a lot about cooking with my crock pot, enjoying the outdoors and making meals work for everyone who came to visit. It was a crazy summer of cooking but we loved it. We also had some serious rain (which eventually was our factor on leaving so early) and it got the better of us, sometimes.
A Rain Day watching the Frog that came to visit: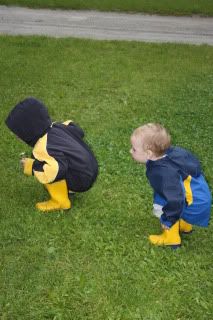 lunch inside after the rain: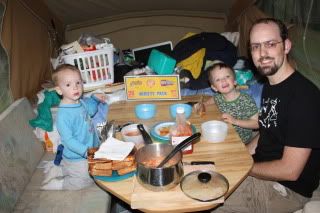 The Toronto Parks and Rec went on strike that year. This meant that that every parks and rec person were on strike. Normally not a big deal and it didn't seem to effect us. We were a little worried they wouldn't extend our reservation but we were able too. We stayed at the campsite from May 15th weekend until August 9th.
During that time Arnold was sent to the USA to do a conference for work. He had a lot of fun and got out of the first actual time at the campsite. He is feeling much more 'at home' at work than before and loves the new direction he seems to be working in. Arnold also started to do a great job at cycling into work. He was incredible. He would cycle in and back from work, only taking the GOBus 2 or 3 times the whole summer. That is 50KM's during the day (assuming I didn't ask him to stop for anything on the way home). And for those Americans reading 50kms is around 32 miles. He did it each day in about 1 hour or so. We only had one accident but it was enough to scare the crap out of me. He was hit by a car. He got up with a few scratches and cuts and went and reported the accident. We picked him up and I didn't let go of him for a LONG time. I didn't get any photos of him but here's one of his ouie and Q's ouie: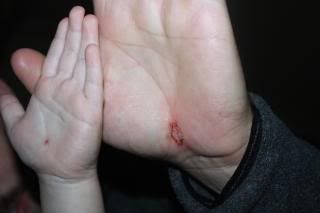 We did our first summer as a "soccer family" It was really cool Kyler did GREAT. He loved every minute of it. We are thinking about trying it again this summer but we aren't sure yet. Here's a shot of my Soccer Man!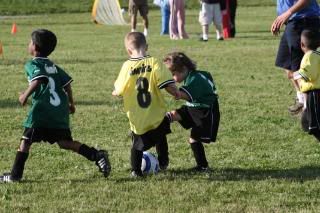 August 1st we moved into the house I'm typing this message from. It's near Pharmacy and Nancy. We moved in and were able to unpack a lot of our things and have a great week of moving in. We then went and picked up Kyler, at the family reunion, after his week at Camp Heslop.
We moved into the new house and we had a great time getting settled. Wet met Kyler's new teacher in September and Kyler started JK the second week or so in Sept. I'm so proud of him. He has learned so much since starting school and helps to teach his brother every day. It is wonderful. This is Kyler on his first day of school: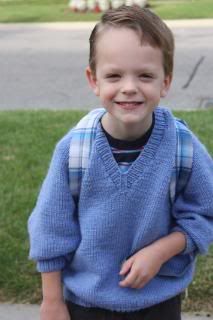 We slowly moved through the year until we got to mid October. We had visits from family and friends from far and near to stay at the house and visit with us. It was wonderful to have them and to visit with everyone, esp Grandma Visser. The boys loved having her around.
In the middle of October we got news that our Land lord was getting married and we had to move. So we started our search all over again. It was very emotional as we didn't want to leave the area (we love the school Kyler is in) and we wanted to have so many things (3 bedrooms, whole house ect). Halloween came and went and we weren't close at all to a new house. But the boys were cute that year! It took Q about 2 homes to realize what we were doing then he was ALL over the trick-or-treating.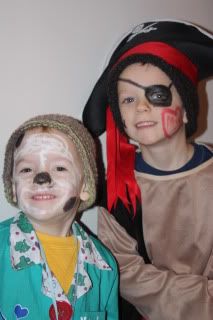 We had Arnold's birthday in Nov and celebrated it at my parents house. We had a very fun time hanging out with them and just relaxing and getting away from everything for a bit. By the end of November we had found a place. It's a few doors down from where we live now and we love it. It's nothing that we wanted but it works for us. This house is only 2 bedrooms, only the main level, and only half the garage but we love it more than anything. It will help us get our finances back on track (cheaper) and keeps Kyler in the same school. It also helps us with keeping our 'junk' down to a min. We have already brought a lot of things to my parents house and refilled their storage area again. I hate that it has happen but we have to put it somewhere and they are so sweet to let us do this.
And this brings us to Christmas. We went home for Christmas and I loved every minute of it. We have been so blessed by our family and friends this year it has been wonderful.
We are slowly getting ready for our move which happens in 2 days. The boys have been playing around in the new place today and slowly adjusting to the idea of moving there. I'm glad too because we have to get them moved over soon. My parents and our friends are coming to help us move on the 30th so we have to be ready.
In the next few days I do need to make my resolutions for 2010. Something to guide me a bit more this coming year. So far this past year I: read more; lost 20lbs; started doing meal plans every month; spent more time with the boys one on one; made it through starting a child in school; and had more time to spend with my family.
Good luck to those who are making resolutions, heck to those who are doing cleaning... or anything to prepare for 2010. May God bless you more and more.