Do you Believe?
The past 17 days have been incredible. Not just for our country but for everyone. So much has happen. And so much to be happy for. We have had nothing but CTV on our TV with the bunny ears from Arnold's Work. It was so wonderful to watch it. It was even better that the boys 'understood' what it was.
My boys have learned so much about the Olympics, the people involved, the sports shown and the amazing clothes. No one could forget our new sport Curling and the Norway pants! http://www.vancouver2010.com/olympic-curling-photos/ I think Kyler wants a pair. Ummm NO!! I draw the line at sending him to school in something like that.
We got to watch the very first Gold Medal being won and awarded. It was perfect timing as not only did we get to see that but the following week at school Mr Brown made sure that the kids understood what everything was. Kyler even got awarded a gold at school. We aren't 100% sure what for but he had a lot of fun. It's beautiful. I should take a photo of him in it this week.
I'm always in awe of how people can compete at things like the Olympics. I keep realizing my 'give up' spirit needs to be changed into an "I Believe" spirit. Not only in watching people but in everything in my life. These people did an incredible job and we are so proud.
Vancouver did a wonderful job. My only regret is that we weren't there. I guess that's everyone's hey?

We are very proud of the people there, and the hard work they put into this event. I am more happy and excited that CTV did a wonderful job of bringing us coverage.
The time change was a kicker for me. I would stay up late to watch something then the next morning (for about the first 3 to 4 hours of our TV watching) would see the rerun on CTV.
A fun Fact about the Vancouver 2010 Olympics:
The medals used in the 2010 Vancouver Olympics will be more than just the heaviest medals ever to be made in Olympic history, as they'll also be sustainable and made from materials harnessed from old cellphones and laptops.
Check out this link for more information:
http://www.unfillthelandfill.com/eco-tech-2010-vancouver-olympics-will-have-medals-made-from-e-waste
One of my other favourite parts of these Olympics were watching the people. I'm a huge people watcher, ask anyone and I loved to watch people. Not just here in Toronto but on the TV. I loved watching the hands wave wildly and see these incredible mittens from Zellers and The Bay.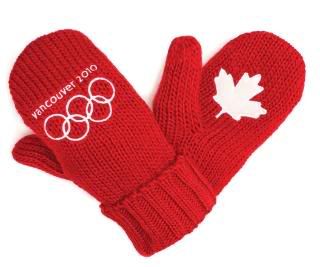 Our final medal count (after the amazing hockey game where we won Gold) was:
1 United States Gold - 9 Sliver - 15 Bronze - 13 Over all Total - 37
2 Germany Gold - 10 Sliver - 13 Bronze - 7 Over all Total - 30
3 Canada Gold - 14 Silver - 7 Bronze - 5 Over all Total - 26
We did a GREAT job! We won as far as Gold goes! It's great!
Ok I know this is another random thing but I LOVED the colours. They were wonderful!
Every time someone with CANADA written on their outfits went onto the TV and did anything (including replays) Quinton would yell out "GO SWEETY GO!!! HIP HORAY HIP HORAY!" We loved to cheer, to yell at the TV, to clap, to laugh, and to cry with everyone.
I'm sure none of the Athletes will read this but Congratulations to everyone. You did a incredible job and we are so proud of you. Because of your efforts and your enthusiasm I can now say that our household is one that will shout "I Believe"!