Who would have guessed we would do 2 new meals this week? Well since I said something last time I guess you!
This past Friday we tried Hash Brown Casserole. It was good. Arnold and I are thinking something more along the lines of a breakfast meal but yet sill very very good. Something to possibly add to the Christmas Morning Lineup! The best part about it was that I'm starting to clue in to 'tricks' to cooking. Like this past week I made Ham, Scalloped Potatoes and Carrots for one meal. I LOVE LOVE LOVE LOVE LOVE my slow cooker. Partly because it is the coolest thing EVER created but partly because it's so big! When I put in my ham for that night I also put in an extra ham to cook. Once we were done supper we cubed up the ham from the extra one I cooked as well as the rest of the ham from that nights supper. This meant it was ready to go for this meal. Alot less work if you ask me.
Anyway here's the meal you have been waiting for:
Hash Brown Casserole:
Prep 20 minutes,
Bake 50 minutes
1 - 10.75 oz can of reduced-fat and reduced-sodium condensed cream of chicken soup or condensed cream of chicken soup (basically whatever you have in the cupboard)
1 - 8 oz carton light dairy sour cream or dairy sour cream (again whatever you have in the... fridge this time)
4 cups of frozen shredded has brown potatoes
1 cup of diced cooked ham (about 4 oz)
1 cup cubed American cheese (4 oz)
1/4 cup of chopped onion (I used a normal onion but I would use green ones next time)
1/8 teaspoon ground black pepper
1 cup of corn flakes
3 tablespoons of butter melted
1 - Preheat the oven to 350F. In a large bowl, stir together soup and sour cream. Stir in frozen potatoes, ham, cheese, onion and pepper. Spread the mixture evenly into a 2- quart square baking dish. In a small bowl, combine cornflakes and butter. Sprinkle over potato mixture.
2 - Bake, uncovered, for 50 to 55 minutes or until hot and bubbly. let stand for 10 minutes before serving makes 6 servings.
Per serving - 351 cal, 19g fat (11 g sat fat), 63 mg chol., 953 mg sodium, 35g carbo., 2 g fiber, 13 g pro.
here's the photos: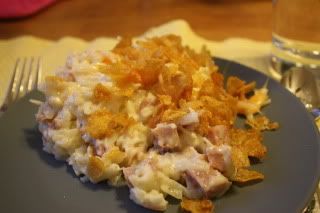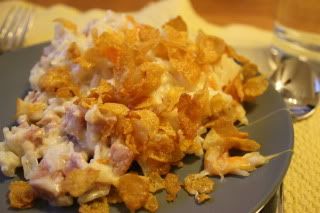 It really is good!