Every once and a while we are blessed to have "Little Thomas" come and visit with us! His Mommy is almost nearing her "end date" at work and with the baby number 2 so we don't have too much time left with him.
Last week we had him for a normal 7 hour and then a 12 hour day. It was alot of fun! Here are a few photos we got of him:
This was on Monday night with the YAH group: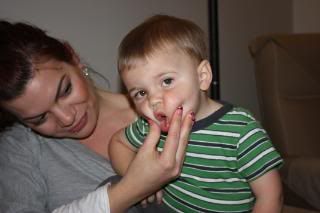 He would just stand/sit there after a bit with his mouth open waiting for people to do it. It was so cute!
This was on Tuesday. We went to play outside and he had fun trying out somethings on his own: