I've been talking alot about little notes of love. How those little gestures can mean so much to the other person. Today is no different.
We all know a few weeks ago was Valentine's Day. We know for us it is never a "big" holiday. We always chill out at home. Infact I don't think we have ever been out ON Valentine's Day.
This year was going to be different. A girl from school was going to babysit for us. Her first time babysitting and a great treat for us to go out on Valentine's Day.
The week before I spent alot of time trying to figure out just what to do for my husband. I mean he has everything he wants... me! Right!?! I'm sure there is more he wants but I would have to be enough.
I still wanted to do something super sweet. So Sunday night I came up with a "plan". On Monday I was going to get up early and mail off something for my husband. Then reality hit.. I had a daycare girl on Monday morning and if this was going to happen it was going to happen EARLY! And I do mean EARLY.
So Monday morning I kicked my hubby out of the house in record time (well not kicked, but strongly encouraged by completing some of his tasks). Then the boys and I came up with 14 reasons Arnold is my valentine. The boys were a "Great" help by suggesting things like "can play on the wii with us". Here are a few of my suggestions.
Loving Husband
Amazing Father
Hard worker
Good with your Hands
Godfearing Man
Strong in Every Situation
Attentive to my Needs
I quickly signed and sent the card away before my daycare girl got there. Oh yeah, I'm that good!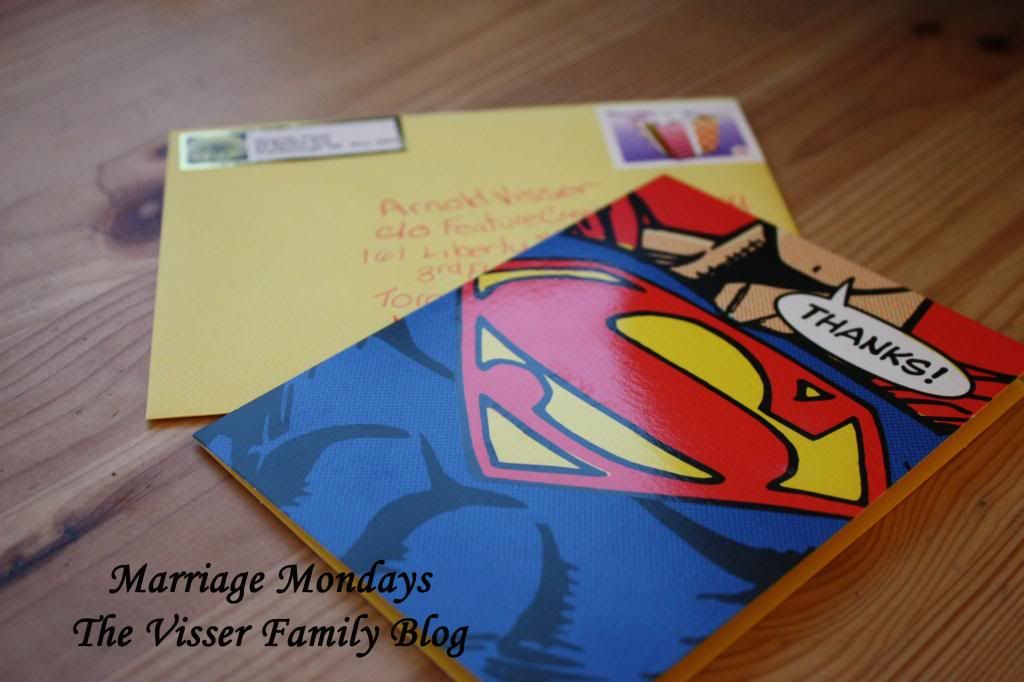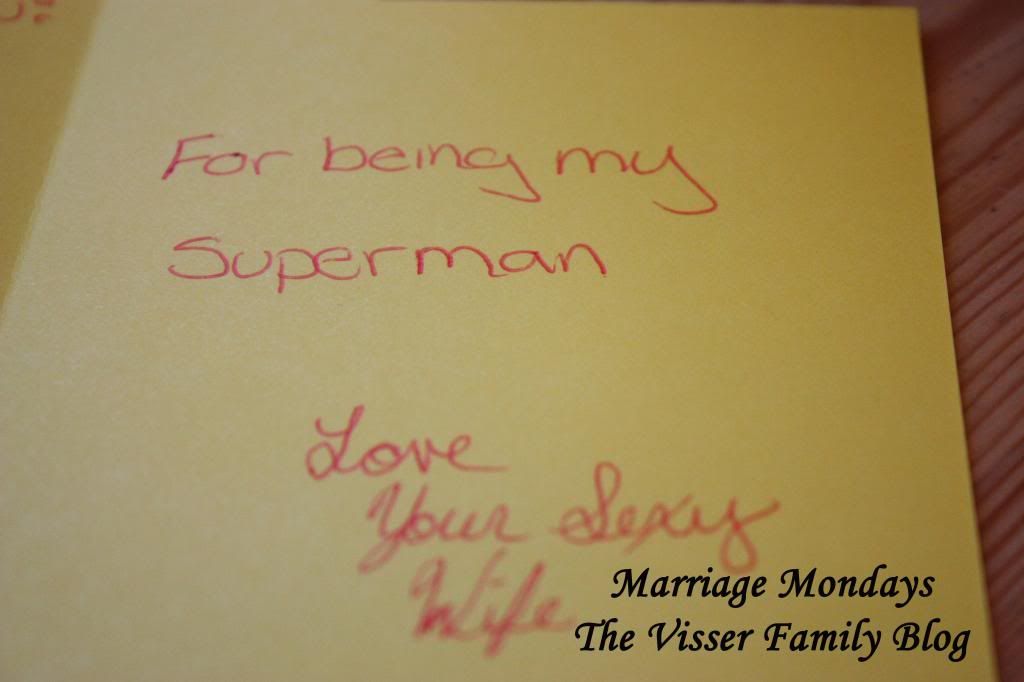 Every day during the week I got more and more excited about when his card would arrive at work. Turns out, that it arrived perfectly on Valentine's Day. And he was the *only* one on the 2nd floor to get his card. I love it when things work out perfectly!
I, was *so* blessed. My husband feels that showing the boys, by example, of how to love the woman in their life. And true to his word, he took the boys out the night before and they bought flowers and hid them in the house (I'm still not sure where the hiding place is!). Valentine's morning I woke up to 2 bouquets of flowers at the top of the stairs, complete with sweet cards. Quinton gave me beautiful orange tulips and Kyler gave me some colourful mums. Arnold gave me pink (almost purple) roses. Everything was beautiful!
I am one lucky lady.
While thinking ahead of Valentine's day is always a good idea, it doesn't have to stop there. Think ahead about a date, or special date coming up. Even just another day of the week. Those "just because" cards are the best.
I dare you. I dare you to think ahead and drop something in the mail for your special person in your life. See what a difference a card can make!