First off I want to say, I am NO expert. At all. Not even in things I want to pretend I am. I still refer to people, the Internet, my mom, other parents and most of all God and the Bible for most of my information. It could be anything from needing help with my laundry (mom) to what to do about my kids in school (other parents). But I do NOT claim to be an expert. At all.
Now with that being said:
I've thought about this for a while and thought it was time to start doing something semi regular in my blog. These Marriage Mondays may seem out of date compared to when you read them, and they most likely are. I've completed some of these things in the month before I have posted it on the blog. Not only does it give me some time to get caught up but it gives me some time to see how things went.
Today's topic, Connecting with Your husband.
I thought I was connected with my husband. Completely. Totally. I knew what he wanted, when he wanted it and how he wanted it... but I was SO wrong.
My husband went to a men's retreat a few months ago at Muskoka Bible Centre. When he was there the centre was beginning their "push" for the marriage weekend. Arnold came home thinking, hey, this could be fun! He wanted to try it. I was about 4 months pregnant with Otis. I told him if he wanted to do it he was going to have to find childcare and we were going to have to use our birthday money to pay for it. He was all on board, so that meant I was as well.
When we were in the hospital just before Otis was born I was telling Arnold to cancel. Cancel it now, and see if we could get our money back. There was *no* way we could have a preemie and go away for the weekend. I just couldn't do it.
After Otis passed away we chose to use this weekend as our weekend to "check in" with each other. Jan 18th-20th was about 2 months from when I went into the hospital so it was a good time to check in and see how we were doing. We wanted to use this time as a chance to exchange gifts with each other and to see how we were both doing. Away from the kids.
This meant it was our first time being away from the kids as well... Arnold's childcare was changed from my parents to my brother (thank you Jack!). We have never gone away with just the 2 of us since we got married almost 9 years ago. So really, truly this was perfect time to go away.
Back to the weekend...
We headed out Friday around 3pm. We quickly did some running around and were on the road. We stopped in Orillia for supper. It was lightly snowing when we went in. You know those cute flakes? Well when we came out about a half hour/hour later it was all over the car and we went from driving 110Km/h on the highway to driving more like 85km/h if we were lucky. It was bad.
Now for those who know me I'm not one for driving in bad weather. I hate it. HATE it. I know I know it's not that bad, cars are safe, ect. But I just don't like it at all. So to pass the time and help me relax Arnold and I talked about random things. Really completely random things.
We got to MBC just in time to sign in (7pm) and find our room. Arnold parked the car and we dropped everything off. We were in this little motel room. Queen bed, 2 night side tables, a tall table, a 3 piece bathroom and a comfy chair. It had sliding doors at the back of the motel room and a view of the lake. So beautiful.
We got all the things in from the car and then headed out for snacks. We got something to drink, some cookies and then went to session #1.
Our speakers were Bill and Pam Farrel. They were great. I really did enjoy their sessions. The worship team was incredible. JUST what I needed this weekend. The first session was giving us a overview of their book (Men are like Waffles Women are like Spaghetti). And kinda going into the differences.
Men think like Waffles... the Waffle is a box.. .every box is something else. And as Bill explained it, when men get older they can travel from box to box faster, which makes them look like they are multi tasking. There are different boxes. There is the "Nothing" box (where they are thinking nothing), the "Happy" box (could be sports, something they enjoy), the "Bingo" box (sex), the "Children" box (each kid has a box including things like what they like, age, ect), the "Budget" box, the "Jobs Around The House" box, ect.
Women think like Spaghetti. If you put a piece of spaghetti on a plate you see it winds and curls and connects/touches almost every other strands. Everything we think is connected. For example you might start a conversation like "At work today my friend called and asked me to go for coffee. So we went to this little shop down the road that has those cute curtains. They remind me of the ones in Sue's house. You know in the spare room? They have those yellow and purple together. You know, yellow and purple dont' always look good together. I'm more of a yellow and blue kind of girl. but not that yellow like the sun, more like yellow like gold. And blue like the sky. They look good together. I really think Brad and Tyler look good together, don't you think? Such a cute couple. And those pictures they took this summer. I wonder if that photographer could do our photos, maybe couple ones? We haven't had our own photos done since our wedding." As you can see this conversation connect everything from Work - friends - coffee- shop- curtains - Sue's house - spare room - colours - gold - blue - together - friends - photos - ect.... To a girl it's a normal train of thought. To a guy this is so confusing... a million different boxes!
Anyway... we learned about how to communicate with each other. It was really a great session. That night we went back to our room and exchanged our "Christmas" gifts with each other. Arnold got me this shirt I wanted. REALLY wanted. But I just couldn't do it. So Arnold went back to the store and bought it for me! I got him a years worth of dates. Every month we are going somewhere different. And it ensures we actually GO/DO something.
Over the weekend we learned more about how to communicate within our marriage (small talk, thought sand ideas, opinions and convictions and emotional connections), how to be a great listener, having safe words with each other for fights, freaking out, how to deal with stress in your home, how we are motivated, how to resolve conflict (since we each do it differently), how to approach conflict, how to forgive, and how to romance each other (again).
Each time we had a break at the camp we would talk with each other about what we learned and what we thought. On the way home we had 3-4 hours of talking about what we had learned. It was our way to re-connect with my husband. We talked about the past, the present and what we thought about for our future. It was fantastic. I loved having time to find out more about my husband.
I challenge you to ask your husband, what are his favourite "boxes"? Find out where he likes to "stay" on his waffle and remember it. When it's a long hard day suggest a "box" to him. Or make that box possible for him.
Connect with your husband today. If nothing else give him 5 minutes of eye contact and listen to him.
And if at all possible, get a weekend away like we did!
Here's just a few photos from our weekend: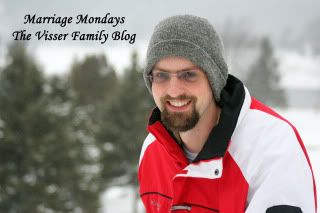 Is he not the most handsome man in the whole world? I think so