I love to entertain. My job in life, or so I feel this is one of my MANY jobs in life, is to entertain people. I love planning, doing and then hiding. That's right I'd rather hide than be around for the event. Maybe, later in life, I'll work for an entertainment company or something.
For now, I'm a mom who has way too much time on her hands.
Last year around this time our College and Career group came to the house and we surprised them with carving pumpkins. Come to find out some of them had NEVER carved a pumpkin in their lives. How is that possible?!?! Needless to say we had alot of fun.
This year we did the same. Except we made a whole evening out of it.
Our Halloween evening started with supper.
We had:
Witches' Brooms and Sauce, Ghoulish Chicken-Ramen Brew with Bubbly Black Punch with Worms to drink. (see below for recipes)
After supper we followed it up with:
More Bubbly Black Punch with worms, Spiced Cran-Apple Cider, Halloween Buddies, Cookie bones and Witches' Brooms. Needless to say it was wonderful.
Then we carved some pumpkins and had a blast!
Now here's the pictures and the directions!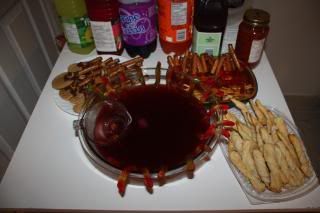 #51
Witches' Brooms and Sauce
Prep Time : 20 minutes
Start to Finish: 35 minutes
Servings: 32 appetizers
1 can (8oz) Pillsbury refrigerated garlic bread sticks
1 tablespoon plus 1 teaspoon of olive oil
1/2 cup of grated Parmesan cheese
2 cups of marinara sauce
1 - Heat oven to 350F. Spray 2 cookie sheets with cooking spray.
2 - Unroll bread stick dough on work surface. Cut dough in half crosswise, and separate to make 16 strips; cut each strips in half lengthwise to make 32 thin strips. Place strips on cookie sheets, 1 inch apart. Using a small paring knife or kitchen scissors, make 4 thin cuts (2 inches long) on the 1 end of each strip. Spread out cut ends to make bristles of each broom. Brush dough with oil; sprinkle with parmesan cheese.
3 - Bake 10 to 12 minutes or until golden brown. Serve with marinara sauce.
****As always I can't seem to follow directions. We couldn't find the Pillsburry refrigerated garlic breadsitcks... so instead I got some on sale (the little crescent rolls) and sliced them carefully. I worked out to get more than this. I also covered them with the cheese and some garlic seasoning to get the same flavour****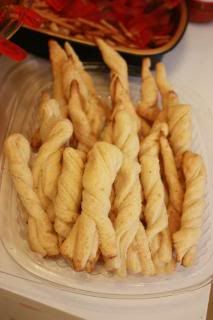 #52
Ghoulish Chicken-Ramen Brew
Prep Time: 30 minutes
Start to Finish 45 minutes
Serving: 6
1 tablespoon of olive oil
1 cup read-to-eat baby-cut carrots, cut into 1/4-inch slices
1 cup of sliced (1/4-inch) celery (2 medium stalks)
1 medium onion chopped (about 1/2 cup)
2 cloves garlic, finely chopped
2 cups of cut of deli rotisserie chicken (from a 2 to 2.5lb chicken)
6 cups of water
1 package (3oz) chicken-0flavor ramen noodle soup mix
1/4 teaspoon salt
1/4 teaspoon pepper
1 - In a 5 quart Dutch oven, heat oil over medium heat. Add carrots, celery, onion and garlic; cook 3 to 4 minutes, stirring frequently, until tender.
2 - Stir in chicken, water, contents of seasoning packet from soup mix, salt and pepper. Heat to a boiling over high heat. Reduce heat to medium; simmer uncovered 10 to 15 minutes.
3 - Break apart noodles, stir into soup simmer uncovered for about 3 minutes longer or until noodles are tender.
****I didn't have a rotisserie chicken so I just used a few chicken breasts (boneless and skinless) and added water and boiled them, and shredded them. I also tripled the recipe and it worked really well. I didn't have chicken-flavoured ramen noodles so I had to use some chicken flavouring I had from OXO. I also didn't add any salt or pepper because I find ramen noodles to be salty. It was put on the table and some did use it ****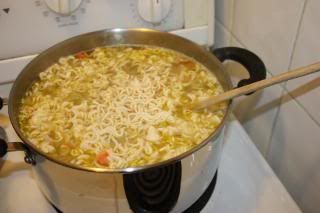 #53
Bubbly Black Punch with Worms
Prep Time: 10 minutes
Start to finish: 6 hours 10 minutes
Servings: 14 (3/4 cups each)
1 cup of gummy candy worms
4 cups green berry rush kiwi-strawberry fruit punch (from 128oz container)
3 cans (12 oz each) orange-flavoured carbonated beverage
3 cans (12 oz each) grape-flavoured carbonated beverage
1 can (11.5oz) frozen grape juice concentrate, thawed
1 - In bottom of a 6 cup ring mold, scatter most of candy worms. Pour fruit punch over candy, filling to within 1 inch of the top (candy worms will float to top). Place remaining candy worms over the edge of mold. Freeze 5 to 6 hours, or until solid.
2 - Just before serving, in 3 quart or larger punch bowl, mix both carbonated beverages and thawed juice concentrate.
3 - dip outside of ring mold in hot water until ice ring is loosened. Remove ice ring; place in punch so gummy worms are visible.
****I didn't have something to freeze the worms in so that was a no go. I just placed them around the punch. I also couldn't find any "green berry rush kiwi-strawberry fruit punch" Instead I used strawberry fruit punch and green lemonade. It was a great punch! The weird gummy worms were fun at the bottom of the cup.****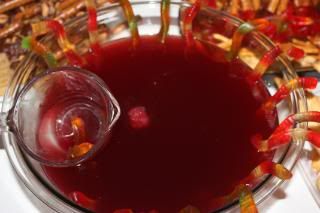 #54
Spiced Cran-Apple Cider
Prep Time: 5 minutes
Start to Finish: 4 hours and 5 minutes
Servings: 24 (1/2 cup each)
1/3 cup packed brown sugar
2 teaspoons of whole allspice
4 sticks of cinnamon, 3 inches long
1 bottle (48oz) apple cider (6 cups)
1 bottle (48oz) cranberry juice cocktail (6 cups)
1 - Mix all ingredients in 3 1/2 to 6 quart slow cooker.
2 - cover and cook on low heat setting for 4 to 6 hours. Remove allspice and cinnamon before serving.
**** I cooked in the crockpot all day. It smelled so good. I also didn't have WHOLE allspice so I just sprinkled a bit in and then removed as much as I could before serving.****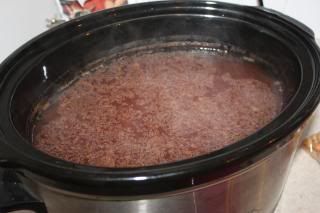 #55
Halloween Buddies
Prep Time: 15 minutes
Start to Finish: 15 minutes
Servings: 30 (1/4 cup each)
4 1/2 cups of Corn Chex Cereal
1/2 cup semisweet chocolate chips (3oz)
1/4 cup peanut butter
2 Tablespoons of butter or margarine
1/2 teaspoon of vanilla
3/4 cup of powdered sugar
1 cup of candy corn
1 cup of salted peanuts
1 - In a large bowl, measure cereal; set aside
2 - In 1 quart microwaveable bowl, microwave chocolate chips, peanut butter and butter uncovered on High 30 seconds; stir. Microwave about 15 seconds longer or until mixture can be stirred smooth. Stir in vanilla. Pour mixture over cereal, stirring until evenly coated. Pour into 1-gallon resealable food0storage plastic bag.
3 - Add powdered sugar. Seal bag; shake until well coated. Add candy corn and peanuts; shake to mix. Spread on waxed paper to cool. Store in air tight container in refrigerator.
****I couldn't find Corn Chex so I used Wheat Squares instead. GREAT snack. Stored in the fridge and freezer****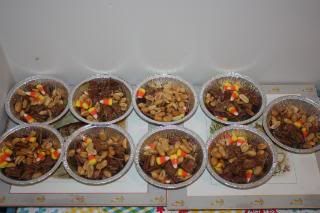 #56
Cookie bones
Prep Time: 2 hours and 45 minutes
Start to Finish: 3 hours and 15 minutes
Servings: 48 cookies
1 pouch of Betty Crocker Sugar Cookie Mix
1/3 cup of butter or margarine, softened
2 Tablespoons Gold Medal All-purpose flour
1 Egg
24 pretzel rods, broken in half
3 cups of white vanilla baking chips (18oz)
1 - Heat oven to 350F. In medium bowl, stir cookie mix, butter, flour and egg until soft dough forms. Place dough in fridge to chill slightly, about 30 minutes.
2 - Roll dough into 96 half-tablespoon-size balls. Press and roll 1 dough ball around both ends of each pretzel to form bone shape; repeat with remaining dough and pretzels. Place 1 inch apart on ungreased cookie sheets. Bake 6 to 8 minutes or until edges of cookie are light golden brown. Cool completely on cooling rack, about 15 minutes.
3 - In small microwaveable bowl, microwave baking chips uncovered on High in 30-second increments until melted when stirred. Dip each cookie into coating. Place on cooling rack until set, about 15 minutes.
****I didn't have pretzel rods so I just used normal pretzels you can get in a bag at the grocery store. I used 2 stuck together. I also didn't cover them completely in white chocolate since it was WAY too much. I just covered the pretzels because then everything was white already. Very yummy ****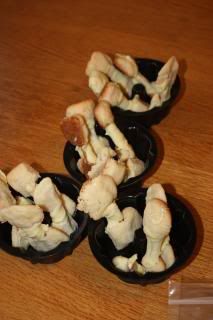 #57
Witches' Brooms
Prep Time: 35 minutes
Start to Finish: 1 hour and 5 minutes
Servings 20 cookies
1/2 cup packed brown sugar
1/2 cup butter or margarine, softened
2 Tablespoons of water
1 teaspoon of vanilla
1 cup of all-purpose flour
1/8 teaspoon salt
10 pretzel rods, cut in half crosswise
2 teaspoons shortening
2/3 cup of semisweet chocolate chips
1/3 cup of butterscotch chips
1/2 teaspoon shortening.
1 - Heat oven to 350F. In medium bowl, beat brown sugar, butter, water and vanilla with electric mixer on medium speed until blended. Stir in flour and salt. Shape dough into 20 (1 1/4 inch) balls.
2 - Place pretzel rod halves on ungreased cookie sheets. Press ball of dough onto cut end of each pretzel rod. Press dough with fork to resemble bristles of broom. Bake about 12 minutes or until set but not brown. Remove from cookie sheet to cooling racks. Cool completely.
3 - Cover cookie sheet with waxed paper. Place brooms on waxed paper. In 1-quart saucepan, melt 2 teaspoons shortening and chocolate chips over low heat, stirring occasionally, until smooth. Remove from heat. Spoon melted chocolate over brooms, leaving about 1 inch at top of pretzel handle and bottom halves of cookie bristles uncovered.
4 - In small microwaveable bowl, microwave butterscotch chips and 1/2 teaspoon shortening uncovered on Medium-High (70%) 30 to 50 seconds, stirring after 30 seconds, until chips can be stirred smooth. Drizzle over chocolate. Let stand until chocolate is firm before storing.
****I totally cheated! I used the Betty Crocker Peanut butter cookie mix. It was super easy and super fast. I also tried their "tip" of putting the butterscotch chips in a zip lock bag and cutting off the end but the bag broke and just made a mess! ****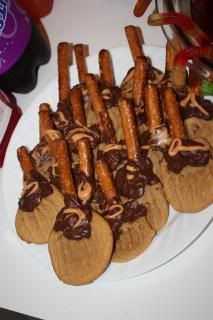 We set up some extra food: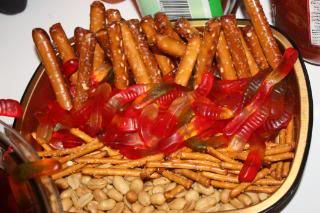 Then we had a blast doing the pumpkins: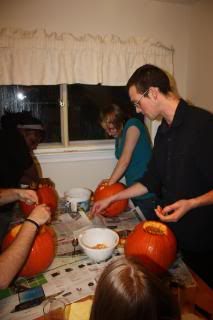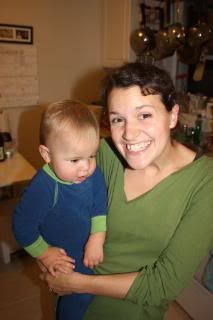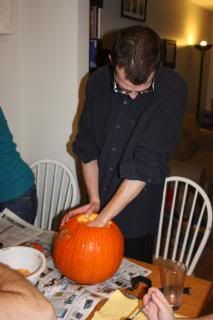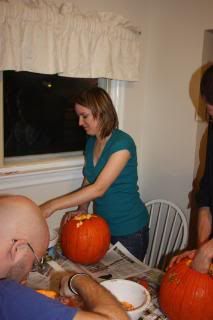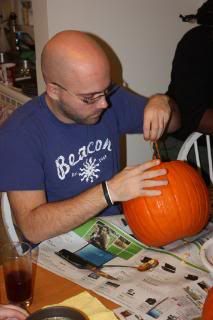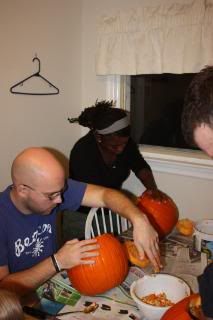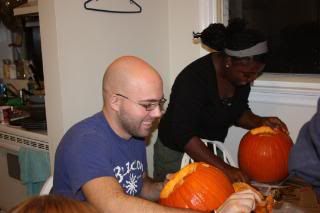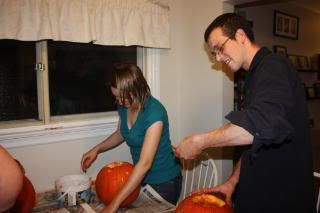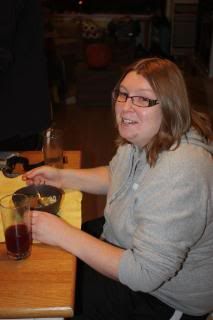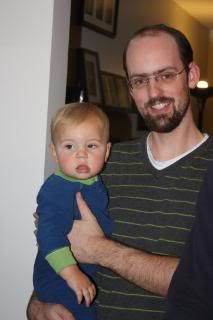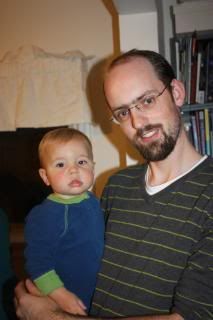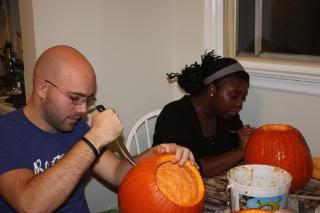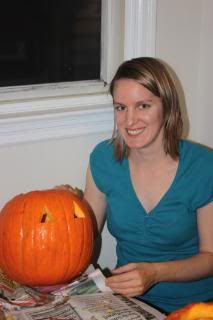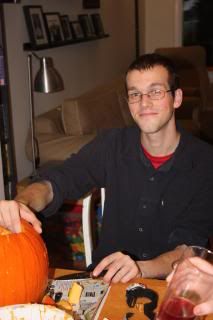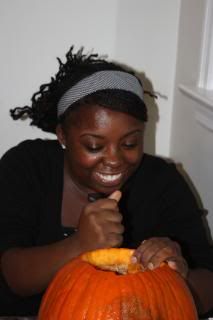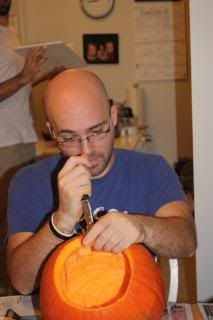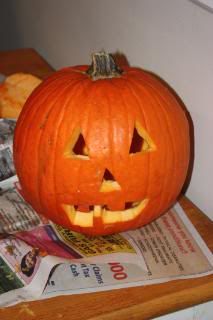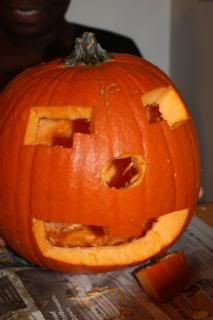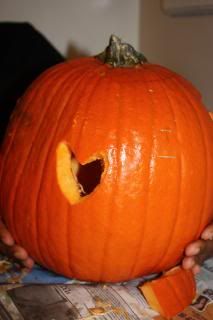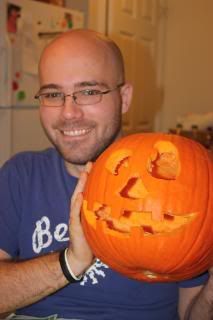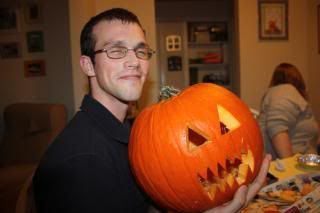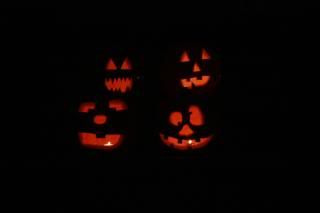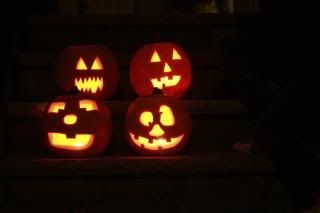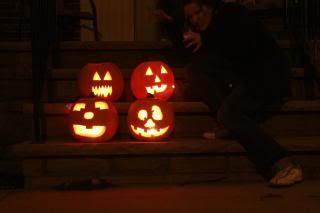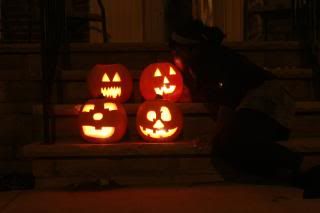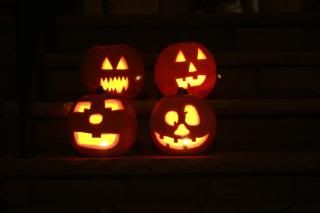 If you did notice yes, I'm missing New Food #49 and #50. I can't find my book that I made them out of for now I'm just 'skipping ahead'. I'll add it in once they are found.
Enjoy Halloween!