This month I'm working on Internet meals. All meals made in March, by me, are going to be made from the Internet meals I find. This one was emailed to me by a group I belong to and it was really interesting. I decided to try it on Tuesday night.
Greek-ed Out Meatballs
1 lb of ground beef
1/4 c chopped flat-leaf parsley
1 tbsp finely chopped garlic
1 tsp smoked paprika (regular works well too!)
1 tsp of sea salt and pepper
1.In a large bowl, crumble the beef and mix in the parsley, garlic, paprika, 1 tsp salt and 1/2 tsp pepper.
2.Roll the meat and form into 16 ( 1 1/4-inch) balls and thread onto 4 skewers.
3.On a preheated grill pan, on med-high, grill the meatballs turning until just cooked through (8 to 10 minutes).
Miranda's Mix Ups: I did everything according to the recipe! Shock hey?
Family Reviews:
Q - Ate more than I thought
K - Ate WAY more than I thought
Arnold - wanted to eat WAY more than there were left for him
Miranda - really good. It was "missing" something... like some feta cheese or something.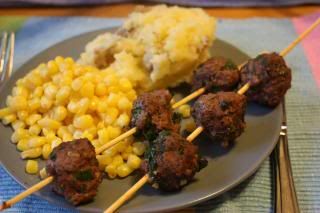 Where I found it
"All Greek-ed Out Meatballs"