Again, another Internet meal. It took a bit longer to prep as it was a swimming night and I'm not used to it. But really yummy and seriously good!
Pasta with Cauliflower
12 oz spaghetti
1 large head cauliflower, roughly chopped (about 3 cups)
3 1/2 tsp extra virgin olive oil
1/3 cup Italian seasoned bread crumbs (I used whole wheat)
5 anchovies
1 medium onion, chopped
6 tbsp Pecorino Romano cheese
1/2 cup chopped parsley
1 - Boil pasta in salted water according to directions for al dente. Drain pasta, reserving 1 cup water.
2 - Meanwhile, steam cauliflower (or boil) until tender. Set aside.
3 - Add 1/2 teaspoon of oil to a small frying pan and toast breadcrumbs, careful not to burn. Set aside.
4 - In a large frying pan sauté anchovies in remaining tablespoon of olive oil until they begin to dissolve. Add onions and cook on medium heat until golden. Add steamed cauliflower and mix well.
5 - Toss pasta with parsley, cheese, cauliflower, 1/2 cup of reserved pasta water, (more if needed) and season with salt and pepper to taste.
6 - Divide evenly between 6 plates. Top with toasted bread crumbs and serve. Enjoy!!
Miranda's Mix Ups - Obviously I didn't use the anchovies. Everything else was done just as it said. And I know it sounds odd to have water mixed in but you need to use it. Trust me!
Family Reviews:
Q - had just plain pasta
K - had just plain pasta
Arnold - liked it, but felt that it needed way more cheese
Miranda - loved it! I loved it so much I ate 3 servings!!!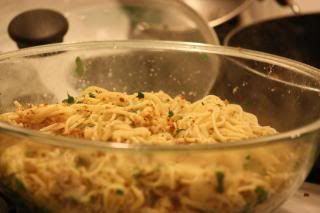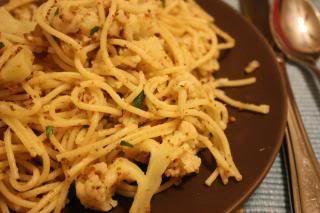 Where I found it
Pasta with Cauliflower