After having a day to relax and not do much we all were ready to go this morning. Amber was up around 12:30am saying there was something "in" her body bothering her. Arnold had her go to the washroom, have a tums and back to bed. At 7:30am she seemed ready to go!
We got everyone up and breakfast in their bellies. I worked on packing up our snacks for the zoo: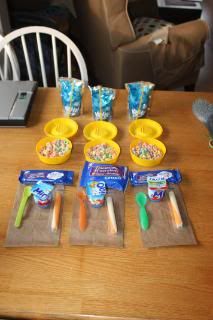 The kids all got dressed with something that had green on it and found their backpacks. I managed to get a photo of the "green-ness" before we left
I got everyone in the car and we drove to the zoo. We sang our zoo song on the way and talked about all the animals we wanted to see. I got our "In case-we-get-lost" photos, this will be our last one in front of this van:
And off we went! There wasn't too much of a line up to get into the zoo so it was quick. We got in, got a photo in front of their "backdrop" and hit up the washrooms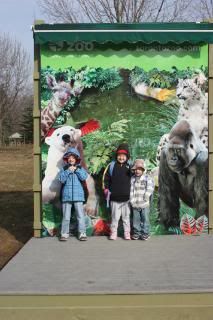 We then went the other way everyone else was going. We headed to the polar bears! The kids loved this part. We did get a few "Kyler, Quinton Amber signs!"
Kyler showed everyone where the polar bears play and what they do. It was cool to see them have fun. Kyler would run to a point and everyone would try to catch up. we checked out under the polar bear part and went upstairs to see if we could find the bears but no such luck, they were off exploring!
We did find them in a different area; and the kids really loved watching them as close as we could get: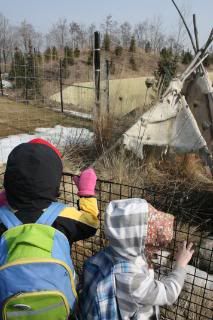 The kids really wanted to check out the "tents"
While the kids were inside there.. forever, another mom said her daughter must be visiting in there. I told her that there were 3 of mine in there. She asked if there was a girl and I said yep! We laughed, then the other daughters camera came out and we knew it would be a bit. She showed the kids all her photos from the zoo!
Kyler ran ahead to see if we could play in the "kids section" and Amber and Quinton caught each other up and got there just in time to have some fun: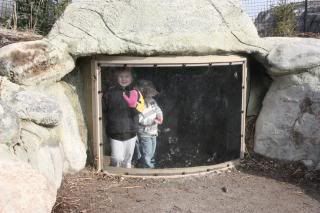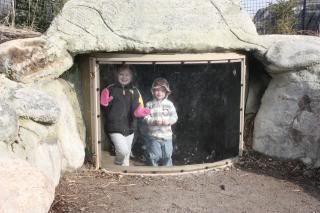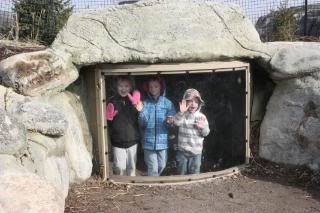 After this we found one of the "new" animals.. a Snow fox? or Arctic fox? Not 100% sure but they are cute:
Kyler was so excited to see the wolves: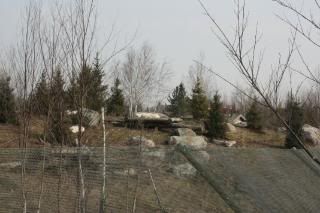 We had our first stop and enjoyed some of our snacks and got in another bathroom break:
We climbed up the huge hill, got to the top and needed another bathroom break. We had a nose bleed. This brought on alot of talking about why we don't pick our noses... eww I know but really it's a big thing to these kids! We decided that due to the amount of bathroom breaks and bloody noses we were going to cut our zoo trip a bit shorter. Instead of going to check out the elephants, lions, zebras and whatever else was back there we went to the gorillas. Kyler loved knowing that one of "his" friends was just a day older than him:
The kids went inside and we checked out ALL the gorillas and got to see the baby one: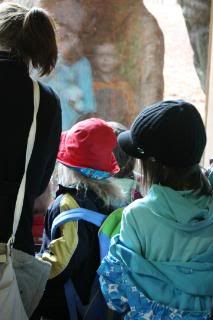 Kyler took some photos: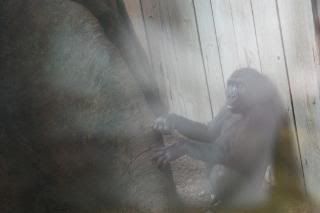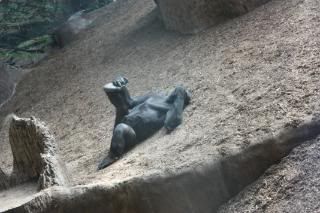 From here we went to the next washroom, then down the hill and got to see the tigers!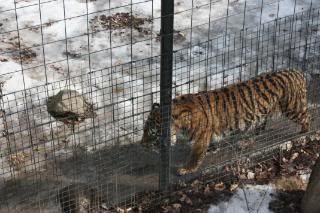 The kids stopped at all the "outlets" on the bridge and wanted to see if there were any animals down there:
The Monkeys were our last animal stop on the way out. The kids loved it!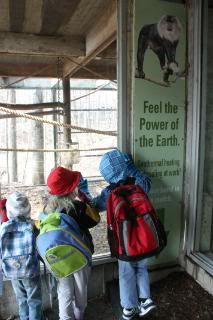 We did stop at the education centre for another bathroom break and to check out the cool stuff there and to, as always, hit up the gift shop!
The kids got to pick anything they wanted. I was surprised that they all picked things rather cheap! A bonus for me!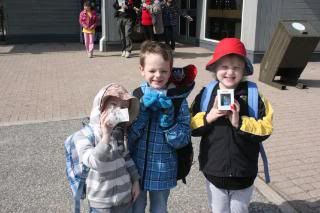 On the way out, Amber was the only brave one, to get a photo with the Zoo bear!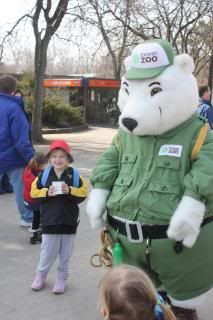 We headed to the car and got in and ready to go home. We headed out and had some car issues... it was revving but not going very far. We went on the highway, but had to pull off at the next exit. Between phone calls with Arnold, my dad, and the mechanic we decided to stop using the car and pull over. I had the transmission fluids checked but nope... it wasn't that. We called our mechanic and had to get our car towed there. I called a new friend from across the road and she came with her 2 girls and picked up my crew of 3 kids and me and brought is home. The tow truck got our car and brought it there.
I have to say the kids were GREAT at this time. We still had some snacks from the zoo left so they had that and played in the car. They were wonderful with all the random people I had to talk to. I'm so proud of them. I really laughed when I told Arnold to send me the number of a taxi that I could call if I needed to get home. Well I got off the phone and Amber goes "Hey! The last time I was here we had a taxi ride too!" Which is true... (
Last year when our car needed to go to the mechanics
)!
We got home and had a short break. Then we all walked down to our swimming lessons. It was a bit of a walk/carry because K had let go of the screen door when Q was standing in front of it and well... Q was doing alot of crying. We got there and had alot of fun! They had a semi-private lesson because the other 2 boys that come weren't there so it was 2 kids to 1 teacher. It was great!
We spent the rest of the afternoon (after our super fun swimming lessons!) searching cars while the kids played in the house (and alot outside!)
Arnold and I found a few new cars that we are going to be checking out!
The kids got to sleep on the pull out couch last night, they loved it! This was while the finished watching Spy Kids 1 (their new favourite movies). I went to bed before it was over but Arnold did stay up until it was done and tuck them all into bed.
I guess Kyler didn't like being stuck in the middle so the Amber and Quinton shared the couch and Ky slept on the lazy-boy chair. He loved it!
Today's Stories:
On the way to the zoo we passed by the mall that Auntie Jaime works at and we all said hi to her (and the library). We started talking about how Jaime is leaving soon to go to Ireland to teach other kids (like K and Q) about Jesus. Well this made Q sad for a bit. Suddenly he goes "Mommy, I hope there are no pirates there! I can't protect Auntie Jaime from here!" IT was so cute!
Amber was so super excited to get her new snow globe from the zoo. She said she doesn't have anymore at home because she keeps breaking them (as a side note... it broke this morning when she bumped it off the speaker... I guess it's true)