Do you know my least favourite/most favourite part of the month? It has to be menu planning. Personally I used to love it so much! It was my favourite thing on earth! I had so much fun and enjoyed it sooo much... now.... not that much.
I'll give you an example:
Last night it was time to sit down and plan meals. First thing I did was grab my calendar. I LOVE this one. It's by MTM. It's called the More Time Moms Family Organizer 2011.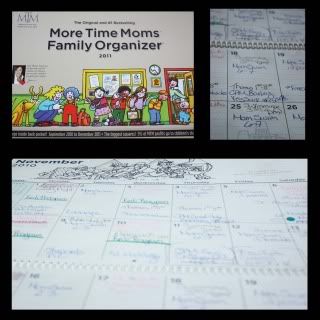 I love the fact that it has HUGE boxes. As you can see we fill ours up completely!
Then I write in thing I need to remember of big events coming up. For those of you coming to the young Adults hangout you can get a sneak peak for what we are having for supper: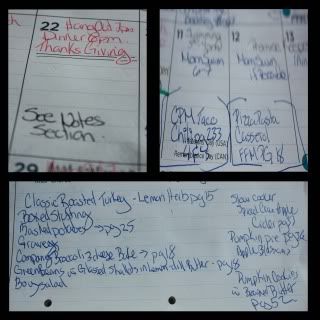 We also go through the past 2 weeks and see what we didn't use and mark it off
Now comes the fun part. Going through all my cookbooks (and I have ALOT) and picking out what I want to try this week. And somehow I get in the meals from the last 15 days we didn't use, which cuts down on groceries!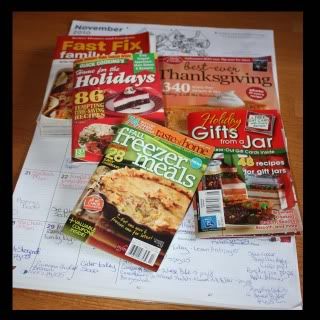 I love going through my cookbooks and finding things we haven't tried, and things we have tried. It's great! One of these days I'm going to make my own cookbook with all the ones we have tried and LOVED!
After the cookbooks comes lists! If you have ever met me in person you know I love to be organized and love lists. I have to-do lists, christmas lists, birthday lists, everything! And so I being.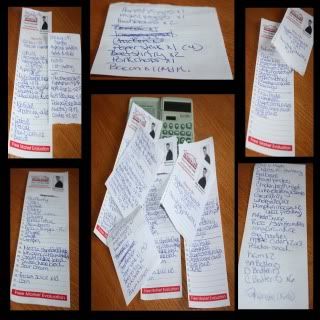 Those lists are my price comparison lists, my grocery lists, my bulk barn lists, and our freezer lists.
Arnold and I spent alot of time on this part last night. He did the "kitchen shopping" while I did the list making. I would ask him to find something for me and he would go and check it out for me and see what we had and didn't have. Then we went to our deep freezer and made our list of things we had and crossed off what we didn't have. That crossed off more than I thought, and made our meat purchases DOWN to 2 hams!
After this comes the part I kinda live for. It's fun to check out what everyone has for sale. I first make my grocery list and then do my freezer and kitchen shopping then I go to the flyers. I quickly look through them and compare to the grocery list and see what we have that matches. I circle it and move on. Then I go back to them and see what ones have it cheaper. I generally start with the store I'm going to and write down where the fyler is from (in this case Price Choppers) then whatever is on sale (Cheerios, cheese, ect) and the price AND the size. I do this for all the stores. It makes it a bit easier because eventually things will cross each other off. In other words one store has shortening on for 1.88 brand name. Where as another store has brand name shortening on for 2.50. So I don't bother writing down the $2.50 store.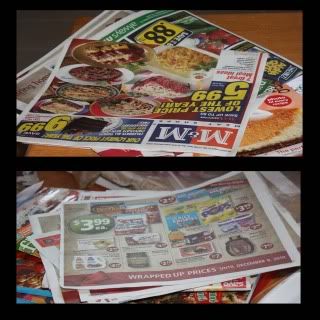 Eventually I make it through all and I keep the flyers that are "good" deals.
Sometimes I have to do the unthinkable! I have to pull out my calculator! No just any calculator. I got one last Christmas from Santa in my stocking from Lee Valley (who knew Santa shopped there!). I begin calculating what each of the measurements/weights are for each of my "good deals". For example: WalMart seems to have *great* deals.... however. If you compare the sizes other places are cheaper and should be trusted a bit more. I start using my calculator to see what the most basic amount costs and then compare to the deals. I've even made myself the beginning of a cheat sheet in my calculator. For example 1pound = 16oz. This needs to be figured out because there is no "pound" button the calculator, but there is an oz button. Since most things are in oz or kg, ml,ect, it's easier to transfer to something else.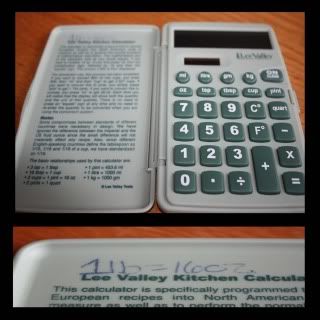 Once I'm finished using that I need a drink! No really! It's alot more work than people think.
My kitchen table begins to look like this once I'm finally completed: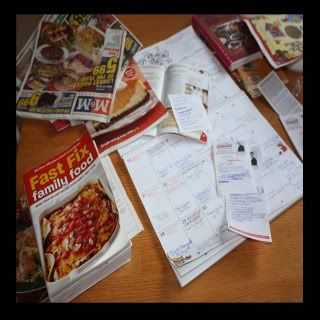 And then comes the next part. I prepare for my trip to the store.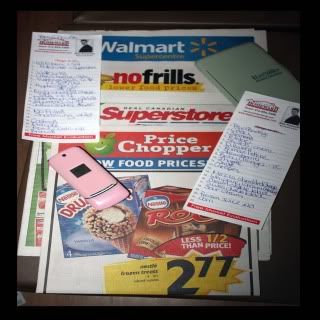 I get the flyers I need for the price matching, the grocery list, my cheat sheet for the price matching/comparison, my calculator (which I don't normally bring, but it came in handy), and my pen to cross stuff off my list!
Today I did ok. Sticking to my list (minus 1 extra lemon, an salad dressing and 1 extra container of apple cider) It was $171.09. If you include the shopping my husband did the night before (milk, extra clips for the light, a cake and some things for supper) we are at $200.21!! Not too bad.
Now we aren't done shopping. We have to go to Costco for a few things, and Bulk Barn for a few more and then we are totally finished! It's kinda nice once it's all over.
But for those of you who think Grocery shopping is so easy you have NO idea! Our total time looks more like this:
Pre-planning - 3hours
Grocery shopping - 2 hours
5 hours total (again more shopping to come).
I hope your Menu Planning is just as fun, if not a bit easier.
ETA - I should also note that this grocery trip also includes our big Thanksgiving dinner for our Young Adults