We made this at the beginning of the month. It's called Hamburger Noodle Bake. It's SOOO good.
It's from the Fall Freezer Meals book I have so everything "says" it makes 2 casseroles but yeah...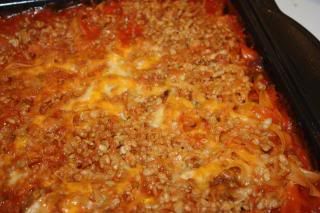 Hamburger Noodle Bake
5 cups of uncooked egg noodles
2 pounds of ground beef
1 cup of chopped onions
1/2 cup chopped green peppers
2 cans (10.75oz each) condensed tomato soup, undiluted
2 cups (8oz each) shredded cheddar cheese
1.5 cup of water
1/2 cup of chili sauce
1.5 cups of soft bread crumbs
3 tablespoons of butter, melted
1 - Cook Noodles according to package directions until almost tender; drain. In a large skillet, cook the beef, onion and green pepper over medium-high heat for 10 to 12 minutes, or until meat is no longer pink; drain. Stir in the noodles, soup, cheese, water and chili sauce. Transfer to 2 greased 8-inch square baking dishes.
2 - Toss bread crumbs and butter; sprinkle over casseroles. Bake one casserole uncovered at 350F for 35 to 40 minutes, or until bubbly and golden brown. Cover and freeze the remaining casserole for up to 3 months.
TO USE FORZEN CASSEROLE: Remove from the freezer 30 minutes before baking (do not thaw). Cover and bake at 350F for 60 minutes. Uncover; bake 10 to 15 minutes longer or until heated through.
We changed it by not using 2 pounds of ground beef, no green pepper, and we didn't have bread crumbs so I used rice krispies! It was good anyway!