On Monday we had our Young Adults Hangout Thanksgiving Dinner! It was wonderful! I loved seeing some faces we haven't in a while and seeing some newer faces to our group. And the food was SOOO good, if I do say so myself! I love making meals for people. It's such a gift, I feel, that God has given me so I use it!
On Monday we had: Lemon Herb Grilled (not ours) Turkey, stuffing, gravy, Company Broccoli Three-Cheese Bake, Green Beaks with Glazed Shallots in Lemon-Dill Butter, Do-Ahead Garlic Mashed Potatoes, Williams Buns, and "Jack Salad" for our main meal. For Drinks we had
Slow Cooker Spiced Cranberry-Apple Cider
(we had at the Halloween meal), and eggnog and regular room-temp Apple Cider. Dessert included: Brown Sugar-Pumpkin Pie with Caramel Whipped Cream, and apple blossoms.
The Spread: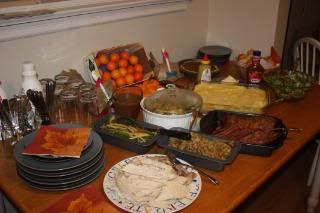 I'll be honest! I was bad photographer and forgot to take photos of every dish like I have before.. silly me. So hopefully you can work with me!
And here are the ways to make them: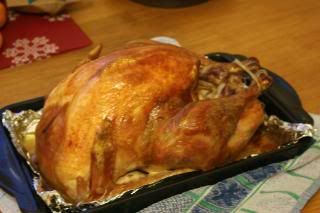 #61 - Lemon-Herb Grilled Turkey
Prep Time - 15 minutes
Start to Finish 4 hours
Servings: 12
10 to 12 pound Turkey, thawed if frozen
Salt and Pepper, if desired
1 large onion, cut into 8ths
2 small lemons, cut into fourths
Vegetable oil
2 Tablespoons of butter or margarine, softened
1/2 teaspoon ground thyme
1 - if using charcoal grill, place drip pan directly under grilling area, and arrange coals around edge of firebox. heat coals or gas grill for indirect heat.
2 - Rub cavity of turkey with salt and pepper; place onion and lemons in cavity. Brush oil over turkey. Insert barbecue meat thermometer so tip is in the thickest part of the inside thigh muscle and does not touch bone.
3 - Mix Butter and thyme brush over turkey. Cover and grill turkey, breast side up, over drip man or over unheated side of the gas grill and 5 to 6 inches from medium heat for 2 hours and 30 minutes to 3 hours and 30 minutes or until thermometer reads 165F and juice is no longer pink when center of thigh is cut. If using charcoal grill, add about 15 briquettes every hour. Let turkey stand for 15 minutes. Remove onions and lemons before carving.
Now again.. we have one of 'those' cases where I can't read.. or if I can I can't get my act together to process it. It does say GRILLED in the title but yeah.. we didn't! I could have but we ran out of propane last week and Arnold didn't want it filled again for the winter... so yea. I did it just as it said and placed in a foil lined 9 by 13 cake pan. It worked perfectly in our oven and was done in about 2 hours or so. I kept it in longer but WOW soooo yummy!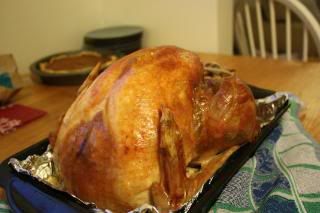 Next in the "spread" photo is the beans so here we go:
#62 - Green Beans with Glazed Shallots in Lemon-Dill Butter
Prep Time - 15 minutes
Start to Finish 15 minutes
Servings: 6 (about .5 cups each)
1pound of fresh green beans, trimmed
2 tablespoons of butter
2 shallots, finely chopped
1/2 teaspoon of sugar
1 teaspoon of lemon juice
1 tablespoon of chopped fresh dill weed
1/4 teaspoon of salt
1 - in a 4 Quart Dutch oven, heat 1 to 2 inches of water to boiling. Add beans; boil uncovered for 8 to 10 minutes or until crisp-tender. Drain; return to Dutch oven.
2 - Meanwhile, in a 10 inch skillet, melt butter over medium heat. add shallots; cook 2 to 3 minutes, stirring occasionally, until crisp-tender. Stir in sugar. Cook 2 to 3 minutes longer, stirring occasionally, until shallots are glazed and brown. Stir in lemon juice, dill weed and salt.
3 - Add Shallot mixture to green beans; toss and coat.
I didn't have fresh green beans but I had a mixed bag of green and yellow beans and carrots so I used those! And I didn't have fresh dill weed but I had ground so I used a few shakes of that. It was still VERY yummy. The book says if you don't have Shallots you could use 1/4 cup of onions if you want. But they add a very nice flavour to it.
In the white Dish with the lid on is this yummy side dish:
#63 - Company Broccoli Three-Cheese Bake
Prep time - 10 minutes
Start to Finish - 1 hour
Servings 14 (1/2 cup each)
1 can (2.8 oz) French Fried onions
2 bags (24 oz each) Green Giant Frozen Broccoli and Three Cheese Sauce
1 package (3oz) cream cheese cut into cubes
1/4 cup of chopped red bell pepper, if desired
1/2 teaspoon red pepper sauce
1 - Heat oven to 350F. Reserve 1 cup of French-fried onions for topping.
2 - In 5 Quart Dutch oven, mix remaining onions, the broccoli, cream cheese, bell pepper and red pepper sauce. Cover; cook over medium-low heat about 20 minutes, stirring once halfway through cooking, until chips are melted. Transfer to ungreased 2 to 3 quart casserole.
3 - Bake uncovered for 20 to 25 minutes or until vegetables are tender. Sprinkle reserved onions around the outer edge of casserole. Bake another 5 minutes.
This one was so yummy. Now I totally cheated on this one. I don't like french-fried onions so none of those or red bell peppers or pepper sauce. Instead we used broccoli (frozen not the 3 cheese one) mixed with cheese wiz, cream cheese and shredded cheese. With more of the shredded cheese on top. SOOO good. Next time I would steam the broccoli more instead of boiling it.
The next large dish you see in the photo is this super easy mashed potatoes:
#64 - Do-Ahead Garlic Mashed Potatoes
Prep time - 35 minutes
Start to Finish - 1 hour and 45 minutes
Servings 8
3lbs of red or white potatoes (about 9 mediums) peeled and cut into pieces
6cloves of garlic, peeled
3/4 cup of milk
1/2 cup of whipping cream
1/2 cup of butter or margarine
1 teaspoon of salt
Dash of pepper
1 - In a 3-Quart saucepan, place potatoes and garlic add enough water to cover. Heat to boiling; reduce heat. Cover and Cook for 20 to 25 minutes or until potatoes are tender. Drain and return to sauce pan.
2 - Heat potatoes over low heat about 1 minute, shaking pan often to keep potatoes from sticking and burning to dry potatoes. Mash potatoes and garlic in pan with potato masher until no lumps remain.
3 - In a 1 quart saucepan, heat milk, whipping cream, butter, sat and pepper over medium-low heat, stirring occasionally, until butter is melted; reserve and refrigerate 1/4 cup mixture. Add remaining milk mixture to small amounts to potatoes, mashing after each addition until potatoes are light and fluffy. Spray 2 quart casserole with cooking spray. Spoon potatoes into casserole, cover and regenerate up to 24 hours.
4 - Heat oven to 350F. Uncover casserole; pour reserved milk mixture over potatoes. Bake 40 to 45 minutes ore until hot. Stir potatoes before serving.
It was SOOOOOOOOOOOO good!!
This last one was my first pumpkin pie. I LOVED it!! Too bad I didn't get a better photo but it's the last thing on the table. We served it with apple blossoms from Chudleigh's farm from this summer and candy cane ice cream with chocolate pieces in it... again a wonderful part of a meal. Without further adieu:
#65 - Brown Sugar-Pumpkin Pie with Caramel Whipped Cream
Prep time 25 minutes
Start to finish 5 hours and 55 minutes
Servings - 8
Pastry - 1 box of Pillsbury refrigerated pie crust, softened as directed on box
Filling:
3 eggs
3/4 cup of packed dark brown sugar
3/4 cup of whipping cream
1 teaspoon of ground cinnamon
1/2 teaspoon of ground ginger
1/4 teaspoon of ground allspice
1 can (15oz) pumpkin (NOT pumpkin pie filling)
Topping:
1/2 cup of whipping cream whipped
1/4 cup of caramel topping
1 - Heat oven to 425F. Prepare Pie crust as directed on box for one-crust filled pie.
2 - In large bowl, beat eggs slightly with wire whisk or hand beater. Beat in remaining filling ingredients until smooth.
3 - Cover edge of pie crust with 2 to 3 inch strips of foil to prevent excessive browning; remove foil for last 15 minutes of baking. To prevent spilling filling place pastry lined pie plate on oven rack. Pour filling into pie plate. Bake pie 15 minutes.
4 - Reduce oven temp to 350F. Bake for 45 minutes longer or until knife inserted in center comes out clean. Cool on cooling rack for 30 minutes. Refrigerate until chilled, about 4 hours. Serve pie topped with whipping cream and drizzled with caramel topping.
This was SO good. Oh yeah.. PLEASE add pie plate to my wish list!! I made it with an 8 inch cake pan and it worked ok.. some parts fell in but it was good overall.