Yesterday was the first snow day that the Toronto District School Board has had since 1999. And for those of you who don't remember... I was in Grade 11 (oh my gosh I'm old!) And from what I have been told this storm was HORRIBLE. It was when the mayor at the time called in the Army to help clean out Toronto... So it must have been bad!
The boys enjoyed their day off. Even thou Daddy had to go to work they had fun. Our day went like this:
7:30am - wake up and find out things are cancelled... Boys had breakfast and I went outside to start shovelling.
8am - I came inside for food and realized this was going to be harder than it looks! There wasn't so much snow it was horrible but enough snow that it was heavy! REALLY heavy. I got the porch, steps and part of the walk way up done and then came in.
The boys got all bundled up and headed outside. Our neighbour helped us to find the sidewalk and the boys had a blast running around. I went back outside around 8:45am and helped find the rest of the sidewalk, driveway. Arnold left for work around then and I eventually got the boys back in the house, around 9am or so.
9am - Q picked a movie and K brought the hats, mits/gloves, scarfs over to the dryer and we put them in (Time #1). While they were drying we had hot chocolate, popcorn and marshmallows while watching a movie.
9:30am - The boys movie was over and I set the timer... I wanted 1 hour between movies. The boys put away their dishes and brought out a few games. One was the game like operation but it was a car. They played it about 3 or 4 times I think. they enjoyed it. Then they played a Penguin game for a bit.
10am - I went back outside (dryer was done by then) and started shovelling again. This time I took the car out of the driveway, brushed it off and started working on the rest of the driveway. We had let the last snow sit on there and because of it it was so hard and so heavy. I walked down to Rob and Bill who were out doing their driveways and walkways. Rob came over and used the snow blower on our driveway. I've never seen it done so fast!! What a wonderful thing. As payment... 2 small apple pies were sent over!
10:30am - Kyler came outside looking for his mits. I ran inside with him and we got him ready. Kyler started to shovel and we made a slide for the boys. The girls (aka "our girlfriends" by the boy) came over to play while their mommy shoveled their walkway. Q saw them and came out AT ONCE! He loves these girls.
I got some cute photos of the kids playing: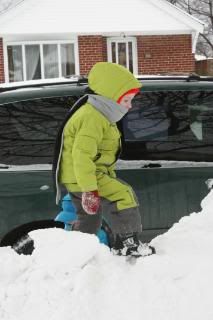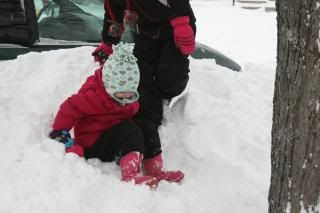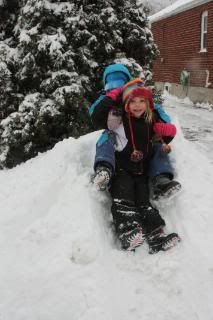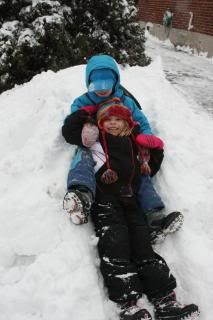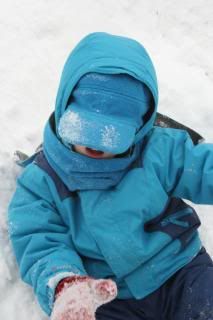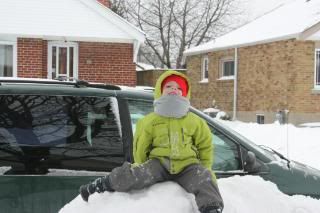 11:30am - the girls headed home (Mommy got called into work early because of no school so the girls were going with her) and our boys hung outside a bit longer to enjoy the slides.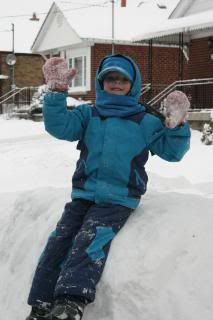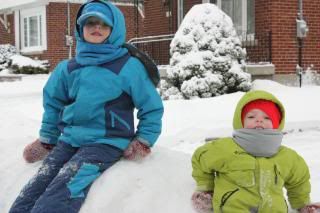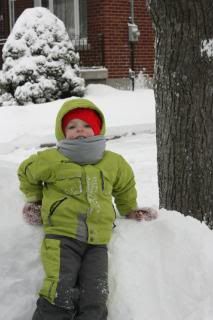 Noon - Q and I headed in the house and Kyler kept playing. He asked us to "call him for lunch". We put our stuff in the dyer (Time #2) and once K got in we put his stuff in as well and started it up again.
We had our lunch and then headed back outside again (once the dryer was done). The boys did start to watch a movie during lunch but I don't think they finished it. They wanted to go outside and play again. Which I'm good with... Keep in mind.. every time they went out to play I was out there shoveling... yes we had ALOT of snow.
I pulled the car out again, brushed it off and did the driveway (with K's help). I ushered the kids back in the house and got them ready for a nap. Boy did they need it after all that work. While they napped I went back outside and did my workout and a bit more shovelling.
3pm - boys were up and ready to go BACK outside... again! I had their hats, mits/gloves, scarfs clean again (Time #3) and we went outside for a bit longer. Q didn't come as quickly as Kyler did. Kyler was ready to go outside before I was. We did more shoveling, another removal of car to get it cleaned off and shovel driveway... AGAIN.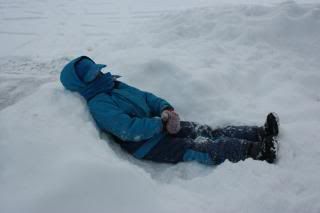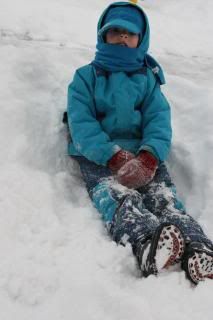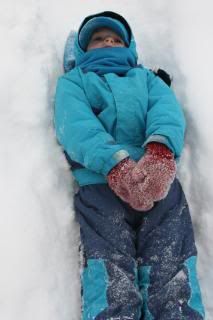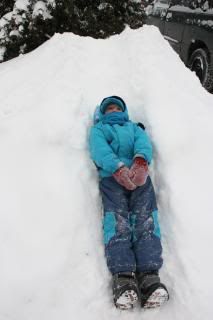 While K played around I finished shoveling and got some photos done. Check out my "creativity" or lack there of in some photos :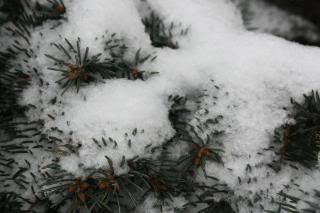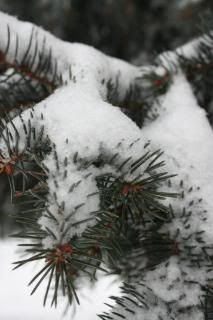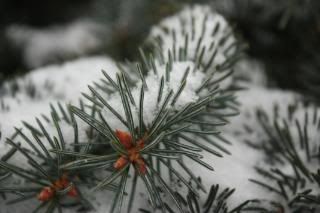 And to show you how much snow: