Monday night I wanted to try something different so we put on a CPMeal. Not something normally done on Mondays but hey, why not change it up a little right?
No Layer Lasagne
8 Lasagne noodles, broken into bite-size pieces
1.5 pounds Lean ground beef
3/4 cup of finely chopped onions
28 oz of canned tomatoes, with juice, broken up
5.5oz can of tomato paste
1 cup of creamed cottage cheese
2 cups of grated mozzarella cheese
2 tsp of granulated sugar
1 tsp of parsley flakes
1/2 tsp of dried whole oregano
1/4 tsp of garlic powder
1/4 tsp of dried sweet basil
1 and 1/4 tsp of salt
1/2 tsp of pepper
1 - Cook lasagna noodle pieces in salted boiling water for about 14 to 16 minutes until tender but firm. Drain.
2 - Scramble-fry ground beef in non-stock frying pan until browned. Drain well. Turn into Slow Cooker
3 - add remaining ingredients. Stir well. Add lasagna noodle pieces stir and cover. cook on low for 7 to 9 hours, or on high for 3.5 to 4.5 hours. Makes 10 cups.
Miranda's Mix-Ups - canned tomatoes, I was sure what they meant so I used diced tomatoes, I didn't have whole oregano, just ground so I used about 1/4tsp instead. And no sweet basil, just ground basil so I used about 1/8tsp.
K - ate it all!
Q - ate a few bites, once he realized there were noodles in there he picked them all out.
Arnold - said it was good, not incredible but good.
Me - meh. To be honest it wasn't the best thing ever made but was good and filled our tummies, and 2 containers for Arnold's work.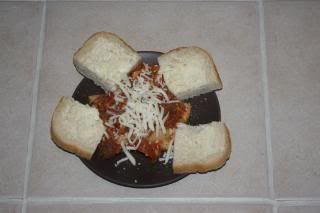 I paired it with home made bread and some garlic butter!!