Guess what I have started?
That's right my training!! I even registered for my "Give - It - A - Tri". This one is on the Toronto Islands. Same as last year. It is on August 27th. I am oh-so-very-excited for it. I'm training and working as hard as I can!
This past month in my training I have:
Cycled 114km's for a total of 3 hours and 45-ish minutes,
Swam for about 6.9km's which took me 2 hours and 52 minutes, and
Walked one walk, which was 2.1kms and was a grand total for time of 21 minutes.
I've also been working on my "Core Fitness" so I've done a total of 800 sit ups, 30 planks (holding for at the beginning of the month 10 seconds, I'm now up to 12 seconds each, 10 seconds between) in about 40 minutes or so. It used to take me 5 minutes to do 100 sit ups. But now I can do it around 3 minutes and 30 seconds, or less. I'm getting there!!
My goal for sit ups this year is 10,000. This means my 800 sit ups are doing something!!
One of my favourite things about my sit ups is having Kyler and Quinton watch me. Kyler does some in gymnastics and he knew he needed someone to sit on his feet. It was so cute to have him ask someone for help. For me, I put my legs up on a box and Quinton sits on them. This is an example of the view I have while doing my sit ups: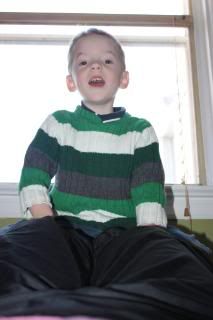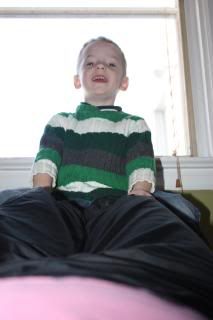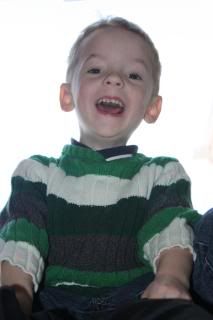 He even counts them off for me. Sometimes we skip a few numbers, and sometimes we go back to the beginning after getting to 10 or 15 but I know he is doing his best as my "trainer"
I've Personal Best'ed (PB'ed) almost every Thursday swim this year. My last one was 1750m's in the pool. It took me 44 minutes to do that. That is 70 laps of the pool, with an average of each lap taking me 40 seconds per lap. Which, for me, isn't too bad. I'm going to try mixing it up a bit.
I have talked to a few of my favourite lifeguards about this and one said one day do distance distance distance, the next day do sprint sprint sprint. So For now Thursdays are my "Kick my PB in the face" days, which makes Fridays my "time trials" and my sprint, sprint sprint days. Hopefully I can make it work for me and get some better times in the lake.
I've been biking in the garage alot this month. I try to get out every Monday, Wednesday and Friday for a bit of time. Generally around 15 to 20 minutes has been my goal. My goal by the end of this month (jan) was to be out there at least 20 minutes 2 times a week. This is about 10kms for me. I have done that!! Go me! Next month I plan on getting out there for about 26ish minutes 2 times a week. This means I have to up my game a bit in the next few weeks. I'm getting excited about the challenges.
Along with all the wonderful stuff of working out comes being sore! I can't believe how bad some of my muscles hurt and how long they hurt for. It's crazy. I'm excited for getting some new cycling clothing to get this bum to stop hurting (in the mean time I'm dawning my cycling shorts 3 times a week now to give my tail bone a bit of extra padding).
And to step up my game I'm trying to lose some weight. Last year, by exercising, eating healthy and being careful not to eat *too* much junk I lost 15 pounds. This year I'm aiming to do about 30 pounds, or there about. For the Month of Jan I have lost 3.6lbs. It might not seem like alot but I know it's helping. My shoulders have stopped hurting so much and I'm having to pull up my new pants more.
I won't lie and say it's easy to lost weight. I've had to give up on some cravings; change them; or try something that isn't going to change my weight too much. I'm also noticing that my body will tell me if I had junk, or something it can't handle. For example I had a chocolate bar last week. I was craving chocolate so bad I had a twix bar and some of a toblerone bar. Well, let me tell you, this body did not like the "junk". Rule of thumb, nothing bigger than my thumb when it comes to "junk". And I think my body can handle it. So no huge pieces of chocolate cake, no large chocolate bars, no 2 "fingers" of the twix bar at once. It does mean a change but it works for me!
All in all my training is going well. Jan's total Kms is 122.
Only 7 more months until the Triathlon!