This week has been crazy. I feel like the boys and I have barely seen Arnold. It all started on Thursday when my computer crashed.. hard. Friday night Arnold and I went on a date (to an incredible place) and did some computer shopping. Saturday Arnold fixed a friends computer and the boys and I hung out. That afternoon Arnold and I went back out and did some more shopping and *finally* found my new computer.
Sunday we had church in the morning (super early because Arnold needed to make sure the new "Kids Zone" was working ok) and Arnold had another service that night he had to leave around 6 or so.
Monday K was home with me, sick. The poor guy. Arnold went to work and then something happen and he had to work even longer. Arnold got home about 1 hour after the boys went to bed!
Tuesday K was home sick again. Arnold went to work then out to a function after work. He got home about a half hour after the boys went to bed.
Today the boys are back into their grove and things are working out. We will see Arnold after Kids Klub and Youth Tonight. So around 8:30pm.
Tomorrow we are heading out to my parents house after swimming for all of us. Arnold will see the kids from about 5:30pm until we leave. Then we are gone all weekend.
Don't get me wrong. Arnold needs the weekend (work is really rough this month). But I can tell the boys miss him As do I.
This morning I was greeted to the best thing ever. My computer has this new thing called "Sticky Notes" You can put them up on your computer like real sticky notes. For example I had one up that had a banana muffin recipe on it. Well this morning after Arnold went to work I found this: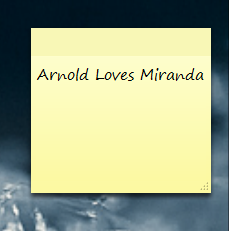 I love you too!