On Thursday, after I went swimming, the little men and I headed out to go to Sarnia. On the way we stopped and picked up Uncle Jack. When we got into Sarnia we got the boys off to bed and I went along shortly after!
Friday morning I brought in everything I had from the car and I worked on the basement. Quinton and I worked downstairs. He played balls and I cleaned up our storage area again and got out what boxes we wanted/needed for the next bit. Kyler and Uncle Jack hung out watching Uncle Jack play a game. We had a morning break, then lunch, and an afternoon break. The boys were so sick that they wanted to sleep most of the day away. We just hung around for a while and relaxed. After dinner I went to the scrapbooking store with Jack and the kids stayed home with Papa and chilled out.
Saturday morning Papa, the boys, and I went out into the COLD! We went to Snowfest. It was really cool. We got to see lots of different snow sculptures and talk to the artist. It was great and COLD. Here's some cool photos: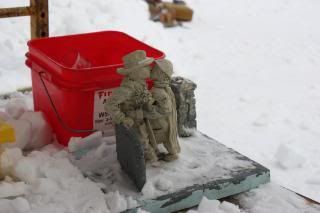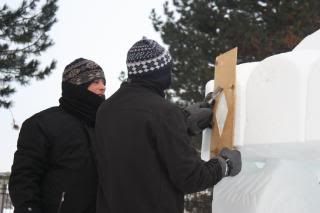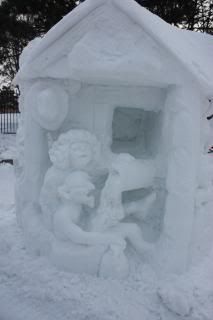 They had this "igloo" that you could check out. They had all their concerts there and this was perfect. It echoed and the boys really enjoyed it, at least Q really did.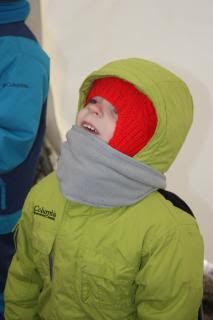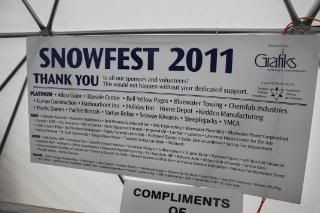 K was so cold he ran ahead! Papa had to run to catch up with the kids: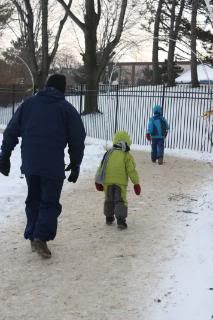 We got home about 45 minutes after we left. That's how cold it was! The boys had another morning nap and then lunch. After lunch the little boys and I went to the scrapbooking store and made their Valentines Day Cards. We had ALOT this year so it was fun. We headed home and had another nap. While the boys were napping Jack and I worked on cookies! We quickly went to the store and got some more things to make cookies with the boys. When we got home we made supper and then did cookies with the little guys. They had alot of fun (photos to come later).
The boys went in the hot tub with my mom at night and had so much fun (again photos coming I promise)
Sunday we headed back to Toronto. While it was colder here in Toronto it was nice to get home