Merry Christmas Everyone! Yes I know I'm late but things have been CRAZY here!
Here's a Recap:
We headed out Wednesday night, late! I think we drove out of the driveway around 9pm. We started our route to Nana and Papa's house. We arrived around midnight I think and got the kiddos off to bed ASAP. Then we crawled into bed and got some sleep.
Nana was nice enough on Thursday morning to take the kids downstairs so we could get some extra sleep. But once I hear Q talking I'm up for the day. He is my alarm clock! The boys played outside in the snow. Nana and Papa's backyard was just waiting for them!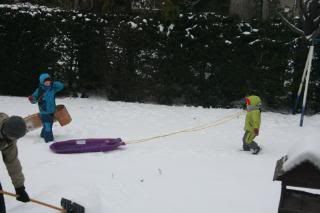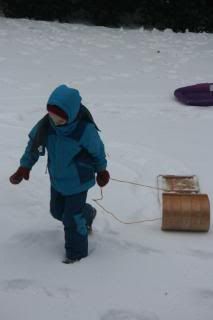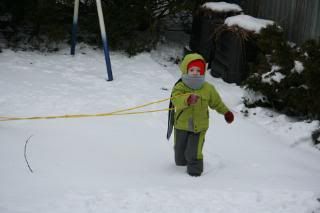 Arnold and the boys shoveled a big hill in the back yard. For some reason we didn't get a photo of it, but they had fun!
We had Kyler's Godmother, and her family, come over. It was great. Their family is good friends with our family. And we were SO pleased that everyone could come! We all hung out and got to open gifts. Godmother Leah (and "Uncle Pat") got Kyler some legos and her sister "Auntie Jessie" (and "Uncle Mike") got them a cool box to put them in. I wish I had one of those boxes when we were little.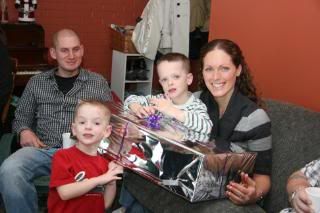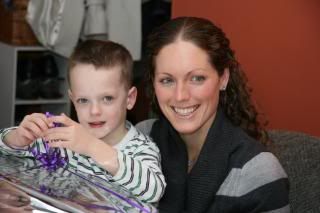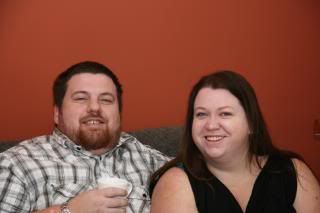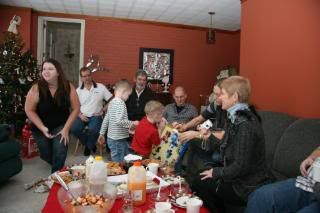 I'll post the other days later, for now I need to get my house clean!!