Made: March 10th 2011 - During the March Meals from the Web
4 boneless pork loin chops (about 1 pound)
2 cups chopped onions
1 cup beef broth
1/8 teaspoon pepper
1/3 cup fat-free (skim) milk
2 tablespoons all-purpose flour
1 Generously spray 12-­inch nonstick skillet with cooking spray; heat over medium-high heat. Cook pork chops in skillet about 6 minutes, turning once, until brown on both sides. Remove pork from skillet; cover to keep warm.
2 Reduce heat to medium. Add onions to skillet; cook 3 minutes. Stir in broth and pepper. Return pork to skillet; spoon onion mixture over pork. Cover tightly and simmer 12 minutes or until pork is no longer pink and meat thermometer inserted in center reads 160°.
3 Mix milk and flour in small bowl. Add to skillet; cook 2 to 3 minutes, stirring constantly, until thickened.
Miranda's Mix Ups: I didn't change anything. It was REALLY good!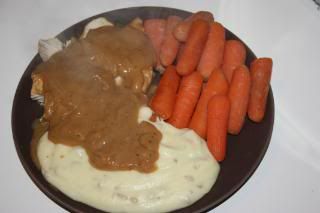 Found
here