Made: March 24th 2011 - as part of the March Meals from the Web
2 pork tenderloins (3/4 lb each)
4 cloves garlic, thinly sliced
2 tablespoons grated lime peel
1 tablespoon vegetable oil
2 teaspoons fresh lime juice
1/2 teaspoon honey
1/4 teaspoon salt
1/8 teaspoon freshly ground black pepper
1 Heat gas or charcoal grill. Cut small, 1/4- to 1/2-inch-deep slits in top of each pork tenderloin. Insert garlic slices into slits.
2 In small bowl, mix lime peel, oil, lime juice, honey, salt and pepper until well blended.
3 When grill is heated, brush pork tenderloins with lime mixture. Place pork on gas grill over medium heat or on charcoal grill over medium coals; cover grill. Cook 18 to 22 minutes, turning several times, until pork has slight blush of pink in center and meat thermometer inserted in center reads 160°F. Cut pork into slices to serve.
Miranda's Mix Ups: REALLY yummy. I made with more garlic and mine didn't look as "good" as theirs because I didn't do it on the BBQ. But still yummy!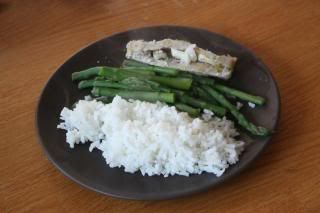 Found
here