Made: May 5th 2011
1 teaspoon salt
1 teaspoon paprika
1/2 teaspoon pepper
1 teaspoon olive oil
3 to 3 1/2 lb cut-up frying chicken
1 large onion, sliced
1 medium bulb garlic (about 20 cloves)
1 In small bowl, mix salt, paprika, pepper and oil to form paste; spread evenly over each piece of chicken.
2 In 5- to 6-quart slow cooker, place onion slices. Arrange chicken over onion. Separate garlic into cloves; do not peel cloves. Place garlic cloves around chicken.
3 Cover; cook on Low setting 7 to 8 hours.
4 With slotted spoon, remove chicken, onion and garlic from slow cooker; place on serving platter. Squeeze garlic cloves to use cooked garlic on mashed potatoes, vegetables or bread.
Miranda's Mix Ups: I just used Chicken breasts for this one. It was SO good! I LOVE garlic!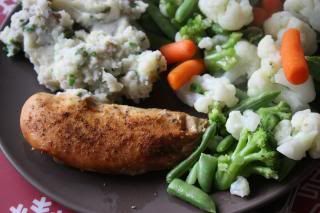 Found :
here