Made: March 28th 2011 - as part of the March Meals from the Web
Chicken
4 boneless skinless chicken breasts (1 1/4 lb)
1/2 cup Original Bisquick® mix
1/4 cup plain bread crumbs
1 tablespoon grated lemon peel
1/2 teaspoon grated ginger root
1/2 cup water
3 tablespoons vegetable oil
Lemon Ginger Sauce
1/4 cup lemon juice
1/4 cup water
3 tablespoons sugar
1 tablespoon cornstarch
1/4 teaspoon grated ginger root
1 drop yellow food color
Lemon slices, if desired
1 Between pieces of plastic wrap or waxed paper, place each chicken breast smooth side down; gently pound with flat side of meat mallet or rolling pin until about 1/4 inch thick.
2 In shallow bowl, mix Bisquick mix, bread crumbs, lemon peel and ginger root. Pour 1/2 cup water into another shallow bowl. Dip chicken into water, then coat with Bisquick mixture.
3 In 12-inch nonstick skillet, heat oil over medium heat. Cook chicken in oil 8 to 10 minutes, turning once, until juice of chicken is clear when center of thickest part is cut (170°F).
4 Meanwhile, in 1-quart saucepan, mix lemon juice, 1/4 cup water, the sugar, cornstarch, ginger root and food color. Cook over medium heat, stirring occasionally, until thickened and bubbly. Pour sauce over chicken. Garnish with lemon slices.
Miranda's Mix Ups: I used cut up pieces of chicken. The goal that day was to make the chicken go farther and it worked! Thank you Lord, as it was a Monday night get together and we were a bit low on funds and food :) It was so yummy! I didn't use the food colouring they suggest but was still great!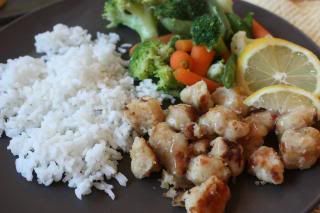 Found
here